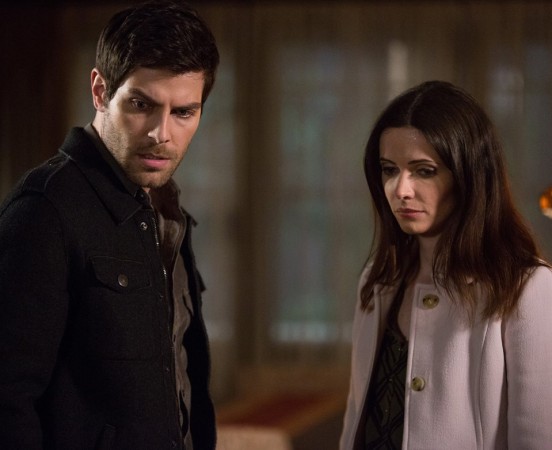 Onscreen power couple Nick Burkhardt (David Giuntoli) and Juliette Silverton (Bitsie Tulloch) are likely to go through the most difficult time in their lives in the finale of "Grimm" season 4 titled "Cry Havoc", which is scheduled to be telecast on NBC next Friday, 15 May, at 8pm.
Ever since the show returned with mid-season premiere titled "Bad Luck", it is taking viewers to various aspects of Silverton as a hexenbiest and the finale will once again focus on Burkhardt's struggles in making a decision about his life.
The official synopsis states that Giuntoli's character is on the heels of a shocking discovery and will be hell-bent on taking the fight to the Royals with the help of Theresa "Trubel" Rubel (Jacqueline Toboni).
In the mean time, Tulloch's character will set new challenge for her partner in episode 22 as her new alliance continues to lead her down a dark path. So the fans of NBC's supernatural series can expect some really thrilling sequence in the finale of the show.
Meanwhile, Claire Coffee revealed that the veterinarian will continuously try to kill Adalind Schade. She even stated that her character will hell-bent on getting Diana back. "I think she's hoping that this new child will be a tool that she can use in order to get Diana back," the celeb told TV Line.
Until "Grimm" brings some interesting sequences between the power couple, fans of police procedural fantasy series can tune in to NBC this Friday, 8 May, at 8pm to watch Jacqueline Toboni as Theresa "Trubel" Rubel in episode 21 titled "Headache", which will be live streamed here.