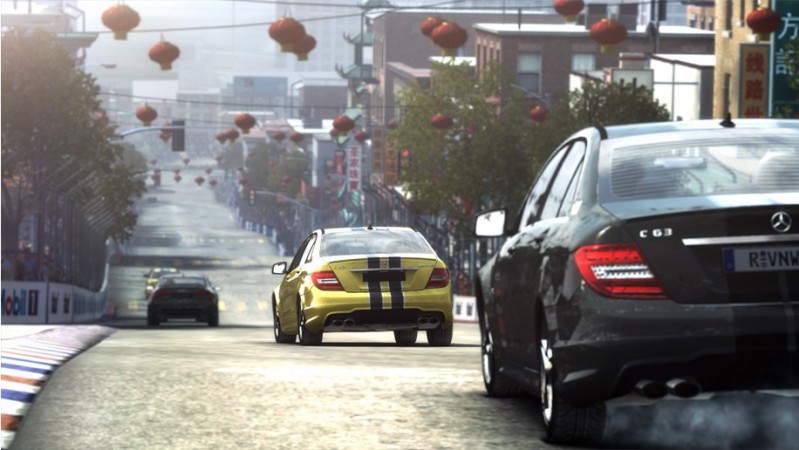 Codemasters, the developers and publishers of racing video game, Grid Autosport have revealed the complete list of achievements in an announcement, posted on its blog.
The developer said that the list will cover Steam and PlayStation 3 users, however, steam users will not have the points and type achievements and PlayStation 3 users will be able to unlock Grid Autosport Perfection Platinum Trophy.
Grid Autosport uses EGO engine and will feature in-car view, realistic AI and authentic handling. It will also have about 100 routes and 22 locations. Players will have a big range of series like touring series, GT, single-seaters, muscle cars, supercars, hypercars, drift, destruction, prototype and many more.
Grid Autosport is a sequel of 2013's Grid 2. The game will also allow players to play with their friends by forming clubs with weekly challenges that are powered by RaceNet. Players will also be able to play split screen co-op or other competitive modes.
The free texture pack on Steam which was originally 30GB has been reduced to 5GB, according to Richard Kettlewell and Clive Moody, producers of Grid Autosport in an interview to PCGamesN.
"We're locked to 30FPS on console, we're clear on PC. 60FPS is really nice, it gives you a great experience. And, it can be played on a three displays. It has full peripheral support - wheels, controllers..." Moody added. The full size of the install is 11GB.
The game is scheduled for release on 24 June 2014 for PC, PlayStation and Xbox 360.
Below is the complete list of achievements (Codies Blog):
Grid Autosport Achievements
Sign on the dotted line - Accept your first Team Offer (5 / Bronze)
Just warming up - Complete the first season of your Career (10 / Bronze)
First of Many - Win a race in your Career (10 / Bronze)
Brand Awareness - Satisfy all 6 sponsor objectives at least once in a Career season (5 / Bronze)
Through the Hoops - Fulfil both of your team's targets in the same season (10 / Bronze)
Top step - Win a driver's championship in your Career (20 / Bronze)
Well rounded education - Complete a season in all 5 racing disciplines (10 / Bronze)
Extra curricular - Win a cup competition in your Career (10 / Bronze)
Toured with the Best - Complete a Touring Car Championship with the Ravenwest team (15 / Bronze)
Endured with the Best - Complete an Endurance Championship with the Ravenwest team (15 / Bronze)
Raced with the Best - Complete an Open Wheel Championship with the Ravenwest team (15 / Bronze)
Flowed with the Best - Complete a Tuner Competition with the Ravenwest team (15 / Bronze)
Battled with the Best - Complete a Street Racing championship with the Ravenwest team (15 / Bronze)
No longer the rookie - Unlock the International Touring Car Championship (10 / Bronze)
Moving up in the world - Unlock the International Endurance Championship (10 / Bronze)
A good track record - Unlock the International GP Championship (10 / Bronze)
Making your mark - Unlock the Pro-Tuned World Masters (10 / Bronze)
Been around the block - Unlock the Pro GT World Masters (10 / Bronze)
One for the cabinet - Finish the Ultimate Touring Car Championship in the top 3 (20 / Bronze)
It's been a long road - Finish the Ultimate Endurance Championship in the top 3 (20 / Bronze)
Pop the cork - Finish the GP World Championship in the top 3 (20 / Bronze)
I make this look good - Finish the Super Modified World Masters in the top 3 (20 / Bronze)
King of the Streets - Finish the Supercar World Masters in the top 3 (20 / Bronze)
Done the Tour - Reach level 10 in the Touring Car Career (25 / Silver)
No longer afraid of the dark - Reach level 10 in the Endurance Career (25 / Silver)
Mr Consistent - Reach level 10 in the Open Wheel Career (25 / Silver)
Need some new tyres - Reach level 10 in the Tuner Competition Career (25 / Silver)
Street Cred - Reach level 10 in the Street Racing Career (25 / Silver)
I've got what Rick Scott's got - Win each discipline's most prestigious driver's championship for Ravenwest (75 / Gold)
Everyone's a winner - Complete the GRID Legends Series (100 / Gold)
A True Legend - Win the GRID Legends Series (30 / Bronze)
Here are the keys - Buy a car in Online (5 / Bronze)
Member of the Pack - Reach level 10 in Touring Car Online (10 / Bronze)
Durable - Reach level 10 in Endurance Online (10 / Bronze)
Downforce to be reckoned with - Reach level 10 in Open Wheel Online (10 / Bronze)
Tuned in - Reach level 10 in Tuner Competition Online (10 / Bronze)
Streetwise - Reach level 10 in Street Racing Online (10 / Bronze)
Tek-Domination - Install all the upgrades and tuning options on a car in Online (25 / Bronze)
An icon in the pit lane - One of your cars reached level 99 in Online (40 / Bronze)
FTW - Win 100 Online races (50 / Bronze)
I've stopped counting - Reach a total Online level of 250, all disciplines combined (100 / Gold)
Just the way I like it - Complete a Custom Cup offline (5 / Bronze)
Long-Haul Legend - Win the driver's Cup in a 5 event Custom Cup offline (20 / Bronze)
Leading them off - Qualify for the front row of the grid (10 / Bronze)
Tweak to Peak - Win a race with custom tuning set-up (5 / Bronze)
Jack of all Trades - Compete in all race types, including party modes (15 / Bronze)
Badge of Honour - Earn a platinum medal in RaceNet Challenge (15 / Bronze)
The Journeyman - Race a season with each of the 10 teams in the career (10 / Bronze)
Sofa, so good - Complete a splitscreen race (5 / Bronze)
Side-splitting - Win a 5 event Splitscreen competition (10 / Bronze)
Image credit: gridgame.com
(Ed:AJ)