Developer Codemasters will be releasing their latest racing video game, Grid Autosport which will be available on 24 June 2014 in North America.
The game is a sequel to Race Driver: Grid (2008) and Grid: 2 (2013) and will be featuring in-car view and authentic handling.
Street Racing Discipline
Codemasters released a new trailer of two minutes that explains the street racing discipline and shows off various cars that players will get their hands on.
Dan Trent and Matt Burton, the developers at PistonHeads explain that the game has tried to reflect the excitement a driver feels when accelerating and the adrenaline pumping up when driving a super car.
"Driving on a tight circuit with no run off is very, very different from driving on the circuits. Tracks with closed fences by the sides, narrow tracks, you get a heightened sense of speed. Everything is ramped up - the fear factor, the excitement, the adrenaline, everything is magnified. You just know that you can't afford to make any kind of mistake," explained Trent explains in the video trailer.
Burton added that the excitement drivers will have when using a supercar – power without feeling that it is "tailing off" can be felt by players in the game.
Trent also added that all the supercars will have different characters. A powerful rear wheel drive car will be a bigger challenge to the players than a four wheel drive.
"Racing is exciting" and if developers are able to replicate it in a game it is exciting, Trent added sharing his enthusiasm.
Players will be able to race off in the streets of Washington D.C., San Francisco, Paris, Barcelona, Dubai and Chicago in the Street racing discipline category.
Players will be provided cars like Mini John Cooper Works GP, Volkswagen Golf R, Pagani Huayra, Mazda Furai, McLaren P1, Bugatti Veyron 16.4 Super Sport in this category.
(YouTube Courtesy: GRID)
Tuner Discipline
This category will test the player's throttle management skills during the Drift events. The event is about style and control, said the official blog post. This is all about precision, timing and car control.
Players will have different classes in Tuner disciplent – muscle, JDM, Modified and drift.
In the Time Attack event, players will use muscle cars and modified cars as they race against the clock.
The drift cars have rear wheel drive and steering lock and short gears. Players will have to have co-ordination in steer, throttle modulation, brakes and handbrake. Timing is important as a miss will send you into a spin.
(YouTube Courtesy: GRID)
Open Wheel Discipline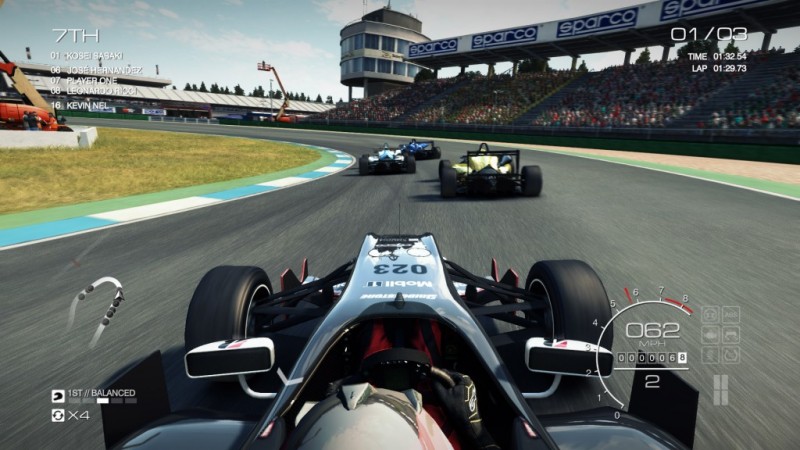 In this category, players will have to avoid contact with other cars as even the slightest touch will mean that they have to forget of making a podium finish. The prominence of slipstream is more in this category. Players can make use of this tool to progress. Also slipstream might be used by other drivers so players in the front must be very careful, says the official blog post.
Features of Open Wheel event:
Large grid sizes
The A.I. opt for clean racing lines
Cars of similar or pre-defined specification, usually single car class
Sports-tuned vehicles with lots of grip
Practice, Qualifying and Race format
Day time races
Cars found under this category are known for their raw acceleration and agility, since they are lightweight cars. This category will have two kinds of cars – ones that are "nippy, rear-engined" and that which can oversteer through corners and mid-engine Formula cars that have thick tyres and lots of downforce giving players grip and confidence to attack.
(YouTube Courtesy: GRID)
Touring Discipline
Grid Autosport also marks the return of the Touring cars. Some of the features that players can expect in this category are:
Large grid sizes (up 16 cars offline, 12 players online)
Aggressive AI that won't be afraid to attack or protect the racing line
Cars of similar or pre-defined specification
Multiple round races
Practice and Qualifying
Races held at day
Loads of trading paint
The cars here will be "grippy and lightweight" and are designed for bumper-to-bumper racing. It will have different categories in cars like:
Cat C Touring Cars
Super Utes
Cat B Touring Cars
Super Tourers
Cat A Touring Cars
Classic Mini Cup
Mini Cup
Classic Touring Car Cup
Cockpit Camera
Grid Autosport will mark the return of the cockpit cam that was available in Grid 2, that will be available in two flavours – one view shows the drivers hands and other showing the track closely.
(YouTube Courtesy: GRID)
Stats
Players will be able to track their game stats from each of the five disciples or their individual stats. Single players will be able to track their discipline XP, number of championships, races entered, wins and podiums.
On the multiplayer side, players will be able to track their discipline XP, the number of races entered, wins, podiums and RaceNet Challenge history.
All these stats can be compared against the Community average.
Vehicle History
Each car will have its history and will be made available to players. It will involve the current cars, the ones sold, races, wins, podiums and distance driven. Players will able be able to compare against the cars they currently own.
RaceNet Challenge
Every week players will have six challenges to compete and it will be based on every disciple and one wildcard. Players will be able to earn rewards like experience and money based on the final finishing position.
Leaderboards
Leaderbords will be featured in the game and are divided into two categories: multiplayer rankings and club rankings. These leaderboards have filters to further narrow down the search for players you want to race.
Multiplayer rankings - This will concentrate on individual online discipline experience and overall level.
Club rankings – This will concentrate on timeframe and language of the club.
RaceNet Clubs
Online groups can be formed allowing players to compare their progress, compete and battle for supremacy with other clubs.
Players will be given club experience based on their performance and are given the opportunity to design their own livery and racing.
Club HQ is the right place to gain access to club's drivers and check up on various stats. It will also be hosting the Club Garage, that will have all the best cars of the club members, their stats and players can compare it with theirs. This area will also have club admins drop in to manage the club, promote players, change the club logo or edit the recruitment status.
Cars (Codemasters Blog)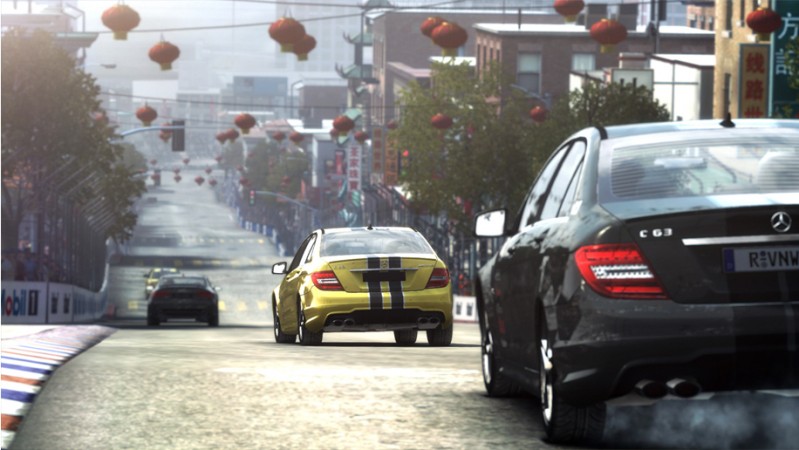 The cars in the game will be divided into five main groups – Touring, Open Wheel, Street, Tuner and Endurance. The game will be featuring Touring Cars, GT, Single-Seaters, Muscle Cars, Drift, Supercars, Hypercars, Time Attack, Destruction Derby, Prototypesand others.
Touring Cars:
Honda Civic Touring Car
Ford Focus ST Touring Car
Chevrolet Cruze Touring Car
BMW 320 Touring Car
MINI Miglia
Mercedes-Benz C63 AMG (Cat B Special)
Audi RS5 (Cat B Special)
Ford Racing Ute
Holden VE Commodore Ute
Mini John Cooper Works Challenge
Peugeot 408 SCB
ADC Presteza-14
Ford Falcon FG
Holden VF Commodore
Ford Sierra RS500 Cosworth Group A
Nissan Skyline GT-R (R32) Group A
Open Wheel Cars:
Dallara F312
Ariel Atom 3.5
Caterham SP/300.R
Lola B05/52
Ariel Atom 500 V8
Dallara IndyCar
Caparo T1
Street Cars:
Mini John Cooper Works GP
Ford Focus ST
Volkswagen Golf R
Honda Integria Type R DC5
BMW 1 Series M Coupe
Lancia Delta HF Integrale Evo 2
BMW M3 Coupe
Audi RS 5 Coupe
Mercedes-Benz C63 AMG
Aston Martin Vanquish
Mercedes-Benz SL65 AMG Black Series
Alfa Romeo 8C Competizione
BMW E30 Sport Evo
Alfa Romeo 4C
Pagani Huayra
SRT Viper GTS
Mazda Furai
McLaren MP4-12C
Aston Martin One-77
McLaren P1
Pagani Zonda Revolución
Bugatti Veyron 16.4 Super Sport
Koenigsegg Agera R
McLaren F1 GT
Tuner Cars:
Ford Mustang Boss 302
Chevrolet Camaro SS
Dodge Challenger SRT8 392
Nissan Silvia (S15) spec-R Aero
Honda S2000
Mazda RX-7 Type RZ (FD3S)
Dodge Charger R/T
Plymouth AAR Cuda
Ford Mustang Boss 302 Modified
Chevrolet Camaro SS Modified
Honda S2000 Modified
Nissan 2003 (S15) Silvia Drift Tuned
Nissan 2004 (Z34) 350 Nismo Drift Tuned
Mazda RX-7 (FD3S) Drift Tuned
Nissan 2005 (R34) nismo GT-R Z-Tune
Mazda Panspeed RX-7 (FD3S)
Honda 5zigen Civic
Mitsubishi Lancer Evolution X Team Orange
Nissan 2011 (Z34) Chris Forsberg Racing 370Z
Nissan 1993 (S13) Daijiro Yoshihara 240SX
Honda NSX R
Endurance Cars:
Audi R8 LMS Ultra
Mercedes-Benz SLS AMG GT3
McLaren MP4-12C GT3
Aston Martin N24 V12 Zagato
Shelby Cobra Daytona Coupe
Nissan Nismo GT-R (R35) GT500
Honda HSV-010 GT
Ford GT40 Mk1
Lola B12/80
Mazda 787B
Tracks (Codemasters Blog)
The game will be featuring 22 tracks with more than 100 routes that will include both racing circuits and fictional street circuits.
Racing circuits:
Autodromo Internacional do Algarve, Portugal
Autosport Speedway, Japan
Brands Hatch, United Kingdom
Circuit de Spa-Francorchamps, Belgium
Circuit del Jarama, Spain
Circuit Mont-Tremblant, Canada
Circuit of the Americas, USA
Hockenheimring, Germany
Indianapolis Motor Speedway, Indiana, USA
Istanbul Park, Turkey
Mount Panorama Bathurst, Australia
Okutama, Japan
Red Bull Ring, Austria
Sepang International Circuit, Malaysia
Yas Marina Circuit, United Arab Emirates
Street circuits:
Barcelona, Spain
Chicago, Illinois, USA
Detroit, Michigan, USA
Dubai, United Arab Emirates
Paris, France
San Francisco, California, USA
Washington, D.C., USA
Future Content
PC players will be the first to get additional content when the game launches. Players can expect a HD texture pack that will boost the visual fidelity of the game.
The studio also revealed that there are three new car packs that are planned. The game will include both single player mode and multiplayer, and the additional content will be for both these modes.
The game will get three mini-expansions based on specific theme. These expansions will be inclusive of new locations, new cars and new game modes.
PC System Requirements
Below are the specifications for the game's PC version:
Minimum:
OS: Windows Vista, Windows 7 or Windows 8
Processor: Intel Core 2 Duo @ 2.4Ghz or AMD Athlon X2 5400+
Memory: 2GB RAM
Graphics: Intel HD3000 or AMD HD2000 Series or NVIDIA Geforce 8000 Series
Network: Broadband Internet connection
Hard Drive: 15GB available space
Sound Card: Direct X compatible soundcard
Recommended:
OS: Windows Vista 64 bit, Windows 7 64 bit or Windows 8 64 bit
Processor: Intel Core i7 or AMD FX Series
Memory: 4GB RAM
Graphics: Intel HD5200 or AMD HD7000 Series or NVIDIA GTX600 Series minimum 1GB RAM
Network: Broadband Internet connection
Hard Drive: 20GB available space
Sound Card: Direct X compatible soundcard
Supported Graphics Cards
Intel HD3000 Series, HD4000 Series, HD5000 Series
AMD Radeon HD2000 Series, HD3000 Series, HD4000 Series, HD5000 Series, HD6000 Series, HD7000 Series, R7 Series, R9 Series
NVIDIA GeForce 8000 Series, 9000 Series, GTX200 Series, GTX400 Series, GTX500 Series, GTX600 Series, GTX700 Series
AMD Fusion A8 or higher
Game Modes
RaceNet Challenge
Online Custom Cup – It is a game mode that allows players to configure and Event the way they want it by choosing different options like discipline, vehicles class, race type, number of events, AI, tracks, upgrades, tuning and assists, manual only, cockpit cam only, pre and post-race timers, collisions, grid order, damage and flashbacks.
Party Mode – This is a mode that is found in Custom Cup and has fun Race Types which do not fit in the five main Disciplines. It includes Demolition Derby, Checkpoint and Eliminator.
Release Date
Grid Autosport will be releasing on 24 June in North America and 28 June in Europe for PC, PlayStation 3 and Xbox 360.