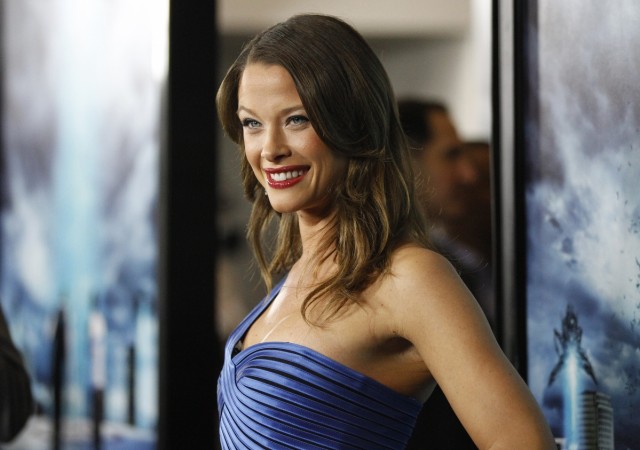 While we are still in the dark regarding what went on between Derek and the mystery woman in Washington, the promo for the next episode has finally revealed the person behind the voice.
Actress Scottie Thompson will essay the role of Renee Collier, the doctor Derek is believed to have cheated on Meredith with.
Promo for the next week's episode shows Thompson's character trying to get close to Derek, and while it remains to be seen if Derek kisses her, the promo implies that Derek was tempted. This could be why Derek rushed back to Meredith towards the end of Thursday's episode, and finally has a talk about the state of their marriage. He admits to Meredith that he's home because their marriage was in trouble.
The next episode is titled "With or Without You" and according to ABC's synopsis, "Meredith, rattled by the latest events, tries to figure out what to do about Derek. Meanwhile, Owen is shocked when his mother is admitted to the hospital."
The big question is whether Derek was unfaithful to Meredith, but fans will have to wait for a week more to get to know what happened between Derek and the new female doctor in Washington.
Meanwhile, the introduction of Thompson has been met with a lot of praises from fans, some of whom said it would be hard to hate the character even if she slept with Derek.
I feel bad for Meredith, but I love @thompsonscottie. #GreysAnatomy

— Jamie (@Chick_Monk) March 20, 2015
OMG! @thompsonscottie I just about jumped off the couch when I saw your face pop up on the preview!!! YES!! — Ryan Bement (@RyanBement) March 20, 2015
Well hello @thompsonscottie on the must see thursday! Gonna be hard to hate your character.

— S Spears (@SAfricaphotog) March 20, 2015
Thompson, too, tweeted her excitement about being a part of the "Grey's Anatomy" family, writing: "@GreysABC is on tonight. Wohoo! ... Getting excited to pop into that world next week! #TGIT anyone catch the preview?"
"Grey's Anatomy" airs Thursdays on ABC.