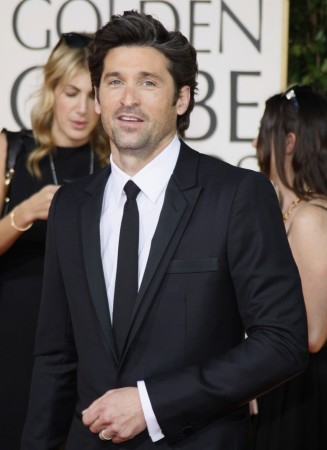 The next episode of "Grey's Anatomy" has managed to create a lot of buzz, as the promo shows Derek missing and his wife, Meredith, and the entire hospital in panic mode.
Showrunner Shonda Rhimes is set to introduce yet another disaster in the form of a plane crash in the next episode, and speculations are rife that Patrick Dempsey's character could be shown dead in episode 20 titled "One Flight Down."
Derek was en route to Washington D.C., for his final meeting, and Meredith receives a message that he missed the meeting.
"Derek missed his meeting in DC and I haven't heard from him," Meredith is heard saying in the promo, and Bailey tells her she should wait until 5 p.m. before she really starts panicking.
So where did Derek disappear to? Fans believe he could be dead, as Rhimes has a tendency to kill off fan-favourite characters. There hasn't been any major death since the plane crash that killed Lexie and Mark, and as the season finale nears, fans have been worrying that something bad was going to happen to one of their favourite doctors.
"Pretty sure he's dead, all the foreshadowing makes me think that," one fan opined, while another added: "I knew from the very beginning this was going to happen with all those damn flashbacks, and little hints thrown in throughout the episode. Shonda is trying to kill us people. Beautiful episode though."
"If Derek dies u realize the whole first Grey's Anatomy squad is almost gone like we only would have Meredith, Alex, Richard, and Bailey left," another message read.
However, there are many who believe Derek is alive, and that he could be helping out the plane crash victims. Dempsey's Twitter activity also suggests that he is still part of the Grey's team.
Meanwhile, cast member Camilla Luddington (Jo Wilson) recently revealed that there will be a lot of tears and drama in the coming episode. After reading the script for the episode the cast is currently shooting, Luddington took to Twitter to express her emotions through emojis.
Here's her tweet:
The latest script of #GreysAnatomy in emojis:

— Camilla Luddington (@camilluddington) April 8, 2015
The official synopsis of the upcoming episode reads: "A small plane crash in Seattle causes multiple casualties and brings back horrible memories for the doctors, especially Meredith and Arizona. Meanwhile, friction between Owen and Amelia makes for an uncomfortable working situation for Stephanie."
"Grey's Anatomy" airs Thursdays on ABC.