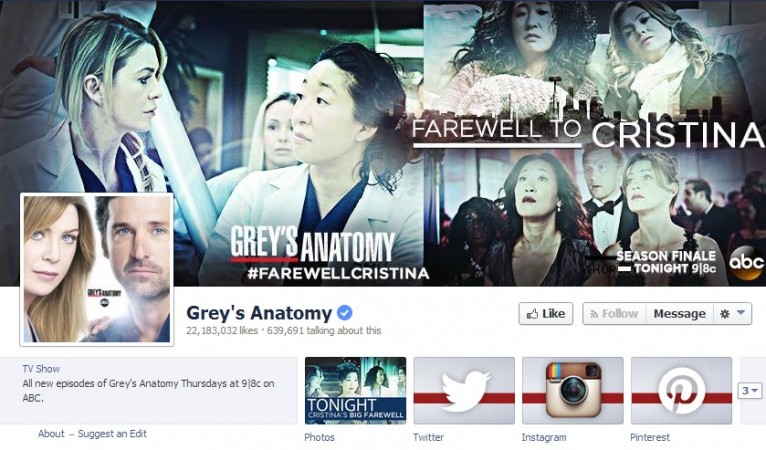 Just when fans of "Grey's Anatomy" thought that the biggest heartbreak and shock of the finale episode would be Cristina's departure, creator of the medical drama managed to drop yet another bombshell before it wrapped up its current season.
The new cardiothoracics head of Grey Sloan Memorial Hospital, Dr. Pierce, sits down with Richard and reveals that she was adopted and that her birth mother is Ellis Grey, Meredith's mother.
And Richard's gape suggests that he is aware who Dr. Pierce's biological father is. Considering that Ellis was Richard's longtime lover, he realizes that Dr Pierce is his daughter too, and this makes her Meredith's half-sister.
Will Meredith flip out at having to work with her half-sister, so will she come to love Dr. Pierce as she did Lexie? This question will be answered when season 11 of the medical drama returns.
But Sandra Oh, who played the role of Cristina, will not be there to help her friend deal with the shock of having a half-sibling. The finale saw Cristina bidding goodbye to Grey Sloan Memorial Hospital to take up a new job in Zurich, but not before she and Meredith dance it out one final time.
"We have to dance it out. That's how we finish," Cristina tells Meredith and asks her not to move to D.C. with Derek.
"He's very dreamy," Cristina said. "But he's not the sun. You are."
Cristina's goodbyes are painful, especially when it comes to saying bye to her former husband, and her one true love, Owen.
When Cristina goes to Owen to say that she is leaving, he is in an operating room working on a patient. She looks at him from the observation desk and their eyes meet briefly. No words are spoken, and when Owen looks away for a second, Cristina leaves.
Recalling shooting the scene, Oh told The Hollywood Reporter that it was her final scene with Kevin McKidd (Owen).
"It was a beautiful image of Cristina in the gallery, basically behind glass and tapping on the OR theater below. Symbolically, with that distance, it cinematically tells the story of where they are and also puts a distance that they don't want between them. It felt right because it was tough shooting that," Oh said.
Before leaving, Cristina also gave Alex a fitting parting gift – her seat on the Grey Sloan Memorial Hospital board, as well as her shares in the hospital.
It remains to be seen if Alex will accept the gift.