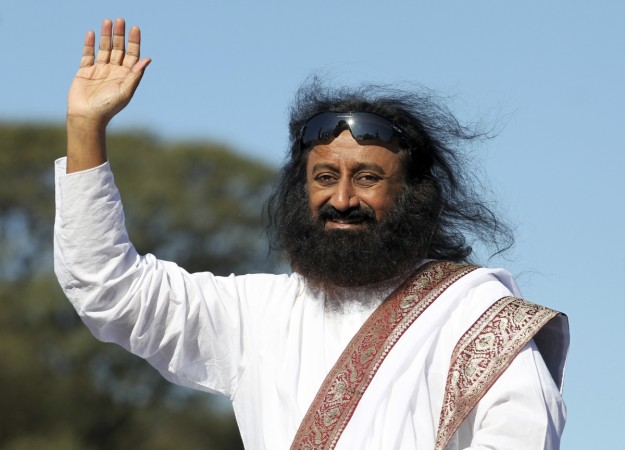 Update: 9:41 a.m. IST — Two fresh applications filed against Art of Living Foundation in the ongoing case of environmental damage to the Yamuna floodplains due to the World Culture Festival were under Section 26 of the National Green Tribunal and the word "contempt" was not used, legal counsel Saraswati Akshamanath and spokesperson for the organisation Shikha Grover told the International Business Times India. The court has directed the organisation to file their replies on the same.
One of the applications talked about a video where Sri Sri Ravi Shankar allegedly said that the "environmental compensation" on the organisation by the court was "politically motivated." The application was based on media reports, the legal counsel said.
"The NGT has asked Art of Living to respond and place our version on record with all supporting material to demonstrate that allegations are false and said that if Mishra's allegations are found without credible basis, strict action would be taken in accordance with law," Grover said.
Original Story — The National Green Tribunal (NGT) on Tuesday issued a notice to the Art of Living (AOL) Foundation head and self-styled guru Sri Sri Ravi Shankar for saying the penalty levied on it by the green court was politically motivated. In the notice, the court has asked Shankar to file a reply on why contempt proceedings shouldn't be initiated against him.
The green court had penalised the AOL Foundation as it was found that the structures made for its huge World Culture Festival in March had violated norms and damaged the environment along the Yamuna banks in East Delhi. A penalty of Rs. 5 crore had been slapped on his organisation, of which a large part is yet to be paid.
The religious leader was sued on Thursday for "alleged disrespect shown by him to the orders of National Green Tribunal (NGT)."
The court has given the self-styled spiritual guru time till May 25 to file his reply on why the court shouldn't initiate contempt proceedings against him, according to NewsX.
In March, the green court had permitted the AOL Foundation to conduct its World Culture Festival, for which a 7-acre stage was built. The court had also told the organisation to submit Rs. 25 lakh before carrying on with the event. It had also levied fines of Rs. 5 lakh on the DDA and Rs. 1 lakh on the Delhi Pollution Control Committee (DPCC).
Ravi Shankar had earlier gotten in trouble with the tribunal for his statement that he would rather go to jail than pay the fine. Recently, he was trolled on social media for saying that he had refused the Nobel Peace Prize.