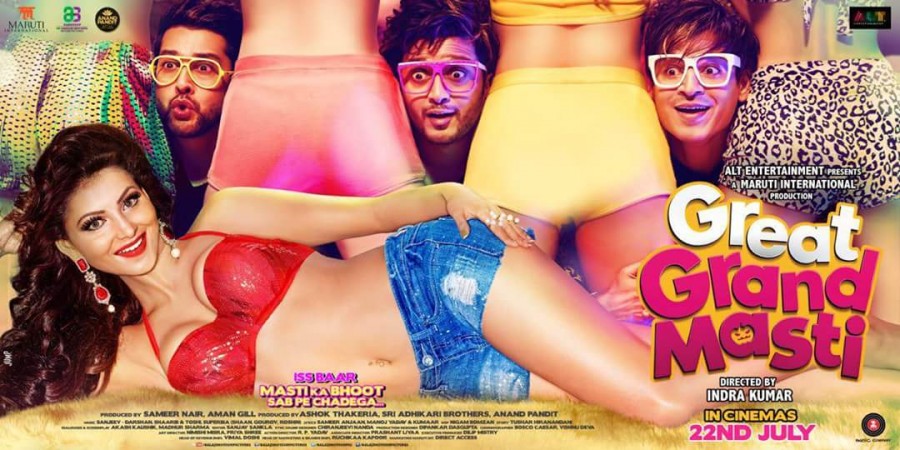 Last week, "Great Grand Masti" ("Masti 3") was leaked online and High Definition (HD) prints were available for download. Even though the makers have rescheduled the release date, putting it out a week before (July 15) it was supposed to open in theatres (July 22), curious film enthusiasts have watched the leaked version and given their take on the adult comedy.
While some are calling it a fun watch, the rest are tagging the jokes as repetitive. This is the third instalment, so it was obvious that the makers would retain the in-your-face gags the franchise is known for.
It isn't the first time that a film has been uploaded online ahead of its release date. "Udta Punjab" had to battle a similar leak, only it was a few days before the film hit the screens. In other news, nine arrests have been made in connection with the leak under the Copyright Act.
"Great Grand Masti" stars Riteish Deshmukh, Vivek Oberoi, Aftab Shivdasani and Urvashi Rautela in key roles.
Here's what social media users have to say:
Aapka Apna Khabri: Can't wait for #GreatGrandMasti so watched pirated.. It's a good muvi.. Ppl will enjoy more in theaters ..@Riteishd is just awesome..
ASHISH: @kamaalrkhan out ho gyi h movie... Ab hoga kya. #GreatGrandMasti.... I saw it......
Jamal Khan: #GreatGrandMasti I am very disappointed in the whole plot. As much as I love the trio, I had expected more in terms of the wahiyati
kunal choudhary: #GreatGrandMasti wacthing the censor copy... download viva extratorrent... full HD. Movie not that gud as last one...
gaurav singh: @kamaalrkhan I watched #GreatGrandMasti and I can say it's better then #grandmasti
Deepanshu harhla: Great Grand Masti Picture Thik H Pr Last Ka Kuch Samajh Nhi Aaya Boss #GreatGrandMasti @URautelaForever @vivek_oberoi @Ritesh
Kris Shenai: #IMDB rating of 1 would be apt for #GreatGrandMasti. Pathetic & worthless movie. Waste of talent.
Ç®!¢KÉT ~ÌÑ M¥ V€ÏÑ$: Worst Storyline Ever! #GreatGrandMasti
Ashutosh: out of the 3 A movie released this year #greatgrandmasti is btr , lyk last part dialogues r SMS jokes nd scenes r direct rip off frm YouTube
KRISHNA CHAUHAN: Last Night #Watched #GreatGrandMasti #Movie #MAST #Naughty #Comedy #GreatFun #Entertainment — watching Great Grand Masti