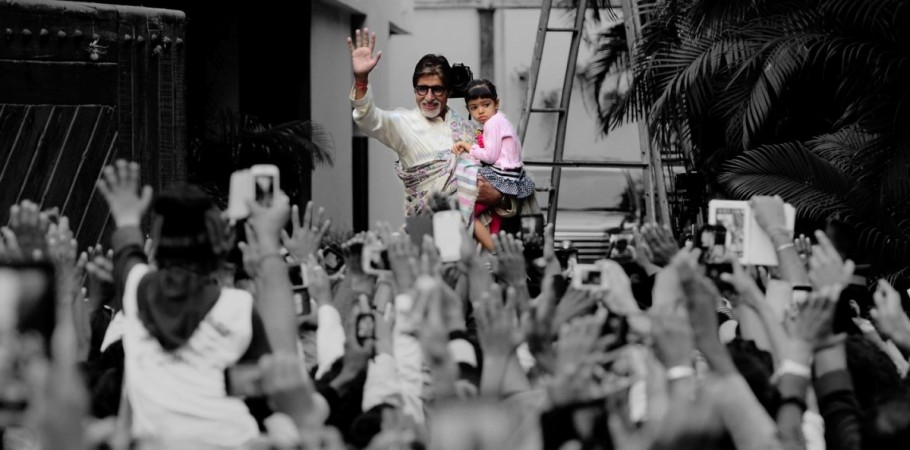 Aishwarya Rai and Abhishek Bachchan's bundle of joy Aaradhya might be a little over three-years of age, but she has interesting stories to tell, claims granddad Amitabh Bachchan.
"The little one gets precocious by the hour...and talks non stop...with as many questions as one could possibly imagine. It's the best time to be with her... her homemade stories, her banter of what she feels about situations, her friends, family, toys and her home... !! These are indeed the happiest days of their lives... before they get exposed to this big bad world!!" he blogged.
On November 16, 2014 the tiny tot celebrated her third birthday with a lavish birthday cake gifted by the Ambanis. Attended by Hrithik Roshan, Kiran Rao, Shilpa Shetty and others the bash was indeed a grand one.
Quite a paparazzi favourite, Aaradhya is often spotted departing airport premises looking just as pretty as her mother. However, her first few encounters with incessant camera flashes weren't too pleasant and the Bachchan family too wasn't happy with their kid's photos being taken.
Meanwhile, Aishwarya and Abhishek are reportedly set to celebrate a quite dinner with close friends and family for their wedding anniversary. The couple has a packed schedule. While the former beauty queen has been working hard on the sets of Sanjay Gupta's "Jazbaa", Abhishek has "All is Well" with Rishi Kapoor slated for release. Senior Bachchan too isn't sitting idle this summer as his "Piku" promotions along with Deepika Padukone and Irrfan Khan will roll soon.
Meanwhile, the Bachchan Bahu created quite a stir on social media during her trip to Chennai to launch a jewellery store. Fans reportedly raved about how she stole the show in exquisite Indian attire. Big B too, attended the event.