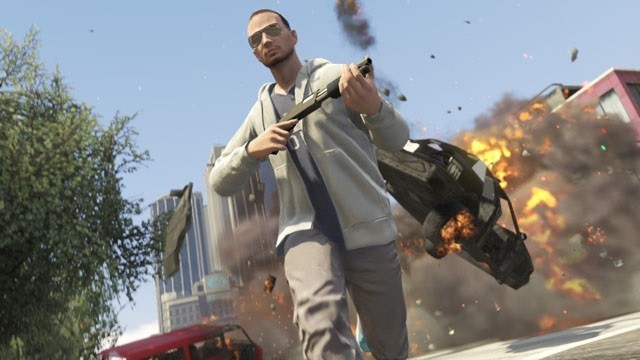 Ahead of GTA5 Online version's expected launch on Oct 1, Rockstar has announced that it will also be issuing a small title update to the game, which will be downloadable. It has further released certain details of the game's home and garage security.
The "small downloadable" title update will be released on PlayStation Network and Xbox LIVE. Though the company in its post said that they cannot give specific time frame for the availability of the update, it will be available starting around 7AM ET in North America. It also indicated that the update may not be available to all the users right on time.
Rockstar revealed that Grand Theft Auto Online story precedes the events of Grand Theft Auto 5's single player story by a few months.
The studio also revealed details some of the features in the game.
Home and Garage Security
In order to avoid causing grief to some of the players, the studio said that it has made house party invitations a friendly affair where players can invite other players into their homes without fearing robbery or property damage. "If someone invites you into their property, then it is considered a friendly visit and you will not be able to shoot up their place or steal their cars from their garage," said Rockstar.
It also explained that there could be instances of multiple ownership property within a lobby, "By the way, in any given lobby, if you and another player own the same piece of property, you will each be able to enter your own personal instance of that property at any given time. You will also be able to enter each other's instance of that property if you exchange and accept an invite."
GTA$ and Fair Play
Rockstar allayed fear among some players regarding GTA$ and said that the studio has designed the game in such a way that purchasable GTA$ would not disrupt the play. It added that there is a mechanism in place to ensure the game continues.
"All players still have to rank up with Reputation Points (RP) in order to get access to purchase high-end items. No one can begin GTA Online and simply spend a lot of money out of the gate to get a leg up. You will have to earn your stripes and play to unlock access to the aspirational clothes, guns and other items," it said.
The Character Creation System
The game allows players to create a complete hereditary-based character where players have to choose and decide on their mother and father. "From there, you can choose to give one parent genetic dominance or leave them more evenly matched. The choice is yours. Next, you adjust a set of lifestyle variables which help determine your character's appearance and starting stats," Rockstar added.
"Decide how much sleep he/she gets, how much partying they indulge in, how much honest work versus illegal activity, and more. Essentially, you can adjust the genetics to wind up with a fresh faced lad or lass or a grizzled, haggard degenerate or anywhere in between! You'll also be able to preview your end result in real time all throughout to ensure you're satisfied before putting your character on a direct flight to LS"
Players can also customize their character with haircuts, clothing and accessories of their choice.