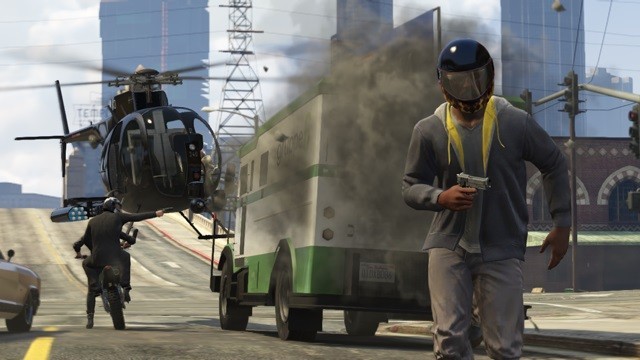 Rockstar has confirmed the rumored microtransactions and has given further details about its offerings for Grand Theft Auto Online. Now players can purchase GTA cash from the in-game store.
Rockstar added a post on its website that made it clear that up to 16 players will be allowed to take part in the game right from the time of its launch where they can create new content and characters can be customized. Players will also be able to make in-game purchases on cars, clothes, properties and weapons. After they have knocked out a target, they are also eligible for Reputation.
It explained the game's Reputation system as, "earned from all your online exploits in everything you do in GTA Online - and will help you rank up, providing access to new features, weapons and criminal contacts. Spend cash you've gained on cars, clothes, guns, properties and much more. You can either quickly accumulate cash through profitable activities like knocking over armored cars, winning street races, doing stick-ups or a host of other cash-making endeavors"
"If you're the completely instant gratification type, you can choose to buy denominations of GTA$. You will have the option to purchase GTA$ through the in-game Store," Rockstar added.
"The game and its economy have been designed and balanced for the vast majority of players who will not buy extra cash. There is no in-game paywall and nothing that should disrupt the balance of the game. You don't have to spend real money to attain the cars, guns, clothes, flash and style of a high-roller in Los Santos, but can if you wish to get them a little quicker. The economy is balanced differently from the single player economy, and cash earned in one cannot be taken over to the other. Most players will earn cash much faster Online than in Story Mode."
The developer also put forward the troubles that players might face in the game. It argued that these growing pains of "crashes, glitches, crazy bugs, gameplay modes" will be "inevitable" in an open-world game like GTA 5. It also assured that the studio will be "monitoring" and will be taking a proactive role in working out any fixes for the game's smooth flow.
The post went on to say that the game Rockstar has also planned updates for the following in Grand Theft Auto Online:
The Content Creator: Tools where players can "tailor and publish" their own "Deathmatches & Races."
The Beach Bum Pack: It will feature, "new amazing beach fun vehicles, over 300 new items of incredible down tempo leisure wear and 2 new but not remotely relaxing weapons."
Capture the Flag: GTA Online's take on the classic CTF mode including the ability to make your own using The Content Creator."
Heists: "This update will introduce full-on cooperative Heist missions that will require careful planning, teamwork and sharp execution - along with the Heist Planning Board for your apartment."
Grand Theft Auto Online is expected to be released on Oct 1.