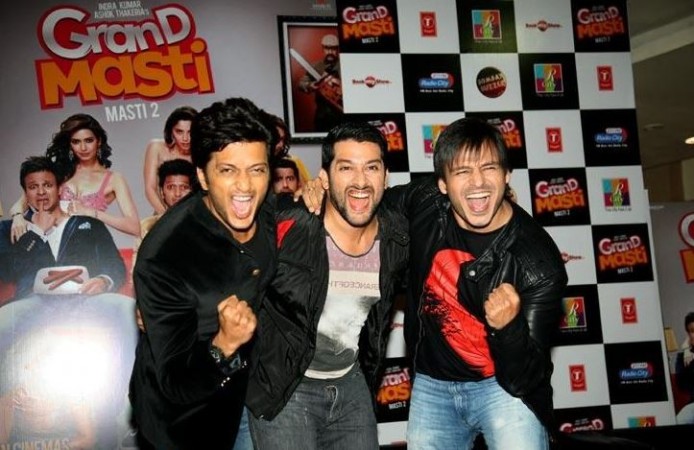 With the success of adult comedy "Grand Masti" the film's producers are already thinking of sequel to the blockbuster series.
Director Indra Kumar and producer Ashok Thakeria are on cloud nine with "Grand Masti"s terrific success and now the duo is reportedly gearing up for the third sequel to the original "Masti" released in 2009.
"Yes the magnitude of success of 'Grand Masti' has taken us all aback. Even on Monday the shows are going full everywhere. God has been kind. We are definitely going into 'Masti' 3 right away. The first sequel took us nine years to make. The second sequel will come in much less time, I promise you that," confirmed Thakeria to Daily News Analysis.
"Grand Masti" that has been doing a brilliant business since its release on September 13 has grossed over ₹67 crore in its first week.
"The USP of part 3 would be the same as part 2. Mad. naughty, crazy, and risqué humour," "Grand Masti"s writer Milap Zaveri further revealed.
The third sequel of the sex comedy might be soon be underway but a recent report had suggested that Ritesh Deshmukh, one of film's lead, is no more interested in the genre of 'sex comedy'. If the report holds true, the makers would certainly have to look for a new lead.
However, the 34-year-old was recently quoted expressing his delight at "Grand Masti"s overwhelming success.
"I haven't seen this kind of buzz before in my career. We didn't expect this kind of opening (for Grand Masti), but it feels great. One always hopes that every film works; I guess I've been lucky," Deshmukh told Hindustan Times.