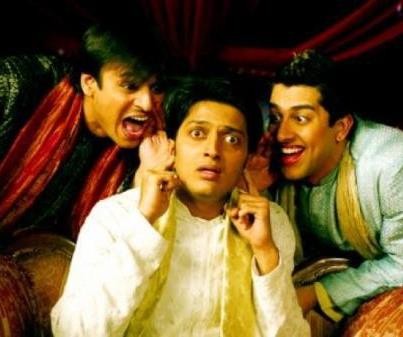 Indra Kumar's adult comedy "Grand Masti" has hit the screens with a grand opening on Friday.
The much-talked about adult comedy has received mixed reviews from critics upon its release. The film, a sequel to 2004 film "Masti", features Aftab Shivdasani, Vivek Oberoi and Riteish Deshmukh in lead roles. Bruna Abdullah, Karishma Tanna, Kainaat Arora, Manajari Phadnis, Sonalee Kulkarni, Maryam Zakaria play supporting roles.
The total production cost of the film is around ₹30 crore to ₹35 crore. It was released in more than 2,000 screens in India. Earlier, the film's release was halted in Punjab and Haryana for its content alleged to be vulgar and obscene. But recent reports suggest that the stay order has been lifted and the film will hit the screens in the two states on the scheduled date.
The film revolves around the three married guys who plan a trip for a college reunion. The adult humour is restricted to limited audiences as it is not a family entertainer.
Check out the critics review here:
Taran Adarsh of Bollywood Hungama said: "First things first! The title, GRAND MASTI, is a clear indicator of what to expect from the film. There's a hidden innuendo in the word 'Grand' and if you remove a letter or two, the meaning can have severe ramifications. Although the team that delivered MASTI is back with GRAND MASTI, the new endeavor is by no means a sequel. The title is borrowed, but the plotline is distinctive.
"A film like GRAND MASTI isn't plot-driven. Not at all. And don't even expect a story here. It's more about double entendres, [sexual] puns and gags and the writers go bananas to woo the spectator. There's nothing left for imagination here, nor does it hinge on puerile or kiddish jokes, since the characters indulge in some really naughty play of words. The humor, let me add, may sound provocative, disgusting and offensive, but come on, what are you expecting from a film like GRAND MASTI?
"On the whole, GRAND MASTI crosses all limits and boundaries vis-a-vis adult humor. This one's *strictly* for those who relish naughty jokes, outrageous lines and scandalous visuals."
Abhishek Mande of Rediff.com said: "Somewhere along the way, Indra Kumar seemed to have successfully sold the idea to Ashok Thakeria, the producer of Masti that it might not be such a bad idea after all to co-produce another film starring the three protagonists of their 2004 flick. And so we have Amar, Meet and Prem (Ritesh Deshmukh, Vivek Oberoi and Aftab Shivdasani) returning to the screen with their antics.
"What follows is a series of improbably ridiculous situations, obnoxious song sequences, cringe-worthy lines and performances that are so bad that Vivek Oberoi's newly-acquired paunch seems to emote better than all the actors put together.
"The women -- all of them, including the junior actors and the extras -- seem like they're straight out of some male fantasy as they traipse around in little or no clothes and at one point strip down even further in the name of saving the men.
"It is disturbing that a film of this nature should have a budget of a few crores, get such a wide release and receive so much publicity.
"I am going with zero out of five stars for Grand Masti because there is no way you can enjoy this movie and still claim you respect women."
Mohar Basu of Koimoi.com said: "Grand Masti is obnoxious and detestable so much so that it can pass for a mild porn film. Replete with sexual innuendos, without a hint of story, this film establishes male chauvinistic notions that men are horny beasts and women are nothing more than available creatures to provide pleasure. It's so unbearable and disturbing to watch such films that demean women so brutally! Belonging to the genre of adult comedy, this film is a vent for the sexually frustrated.
"Vivek Oberoi, Aftab Shivdasani and Ritesh Deshmukh are so horrendously disgusting that I don't have a single word of kindness for these men!
"Grand Masti is a grand tapestry of trash! If you are going to watch the film, it is automatically assumed that you are brainless to invest your time in such a painful film. I would rather route you to watch blue films which might have a better storyline and more action than you expect here. Since films are a work of effort, I am not giving this is a zero."
Rohit Vats of IBNLive said: "The promos of the film suggest that it's going to be a story of unfaithful husbands who get into some deep troubles during their sexual escapades.
"Ok, the film is actually what was promised in the trailers. #GrandMasti is raunchy from the first sequence. #GrandMasti is full of double meaning dialogues. This film is much ahead of other adult comedies.
"#GrandMasti has just one motive that is to evoke laughter via double meaning dialogues. In good sense or bad sense, #GrandMasti is going to push the envelope for Bollywood adult comedies.
"The second half of #GrandMasti is lethargic. At least the audience deserve a well made film. #GrandMasti is expected to finish at a similar note than Masti. Pradeep Rawat does over the top acting. #GrandMasti is illogical and mindless but as per the trailers. It redefines the adult content of Bollywood."