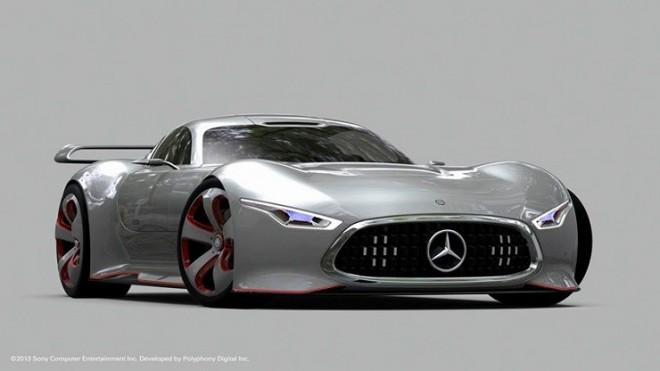 Developer, Polyphony Digital's latest free update for its sim racing video game that went live on 18 December introduces two new Red Bull Cars. This update was done in collaboration with Infiniti Red Bull Racing, as a part of Red Bull X Challenge and includes 2013's Formula 1 World Champion Sebastian Vettel as a racing mentor. He teaches players the art of driving a formula one.
"I've been playing Gran Turismo since I was 12, so to appear in the game myself as a mentor is great. I hope everyone enjoys the game," said Sebastian Vettel.
This update gives players two of the four new Red Bull cars and the other two cars will be available in the game's future updates. These cars were designed in collaboration with Adrian Newery, chief technical officer with Red Bull F1. Apart from these, players will also get 'Red Bull Racing Kart' and 'Red Bull X2014 Junior'. Another future update will introduce Red Bull X2014 Standard and Fan cars.
"We are very grateful to Adrian Newey, Sebastian Vettel and Infiniti Red Bull Racing for providing this special gift for Gran Turismo fans. To be taught how to drive downforce cars by the best racing driver in the world is very special and the new Red Bull X2014 cars are another exciting addition to Gran Turismo 6. This is the latest update for the game and there are more to come," said Kazunori Yamauchi, President of Polyphony Digital in a press release (via Autoblog).
Below are the list of changes that follow update 1.02:
Consecutive Login Bonus - When you login online for consecutive days, a bonus to all credits awards will accrue up to a potential 200% bonus on the 5th day. Be sure to login everyday to earn more credits!
Credits earned in Career Mode increased - The amounts of credits earned in Career Mode have been increased. This may give good incentive to go back and try some races you've already cleared!
Entry requirements for Seasonal Events lowered - Players will only require a National B licence in order to participate in Seasonal Events and, for a limited time, there will be unique special events that will reward cars as prizes, so don't miss this opportunity and remember to login online!
Bonus Events within Seasonal Events - Two new Seasonal Events will run from 20 December 2013 to 17 January 2014 and 02 January to 30 January 2014. These unique events to mark the seasonal holidays and the New Year will feature special bonus credits.
Glitch Causes Players to Earn 20Million Credits
A glitch in PlayStation 3's exclusive game has allowed players to save round about $140 in transactions. This glitch has allowed players to fill their accounts with maximum money without even having to spend anything, GamesRadar reported.
Players who dream of becoming a credit millionaire instantly can follow the steps given below or even follow the video trailer. Though the developer is working to fix the issue, until its fixed, players can make use of this glitch.
Players have to install patch 1.01 of Gran Turismo 6.
They have to go directly to Vision GT under the Cars section.
When 'Do you want to use this car now?' appears, choose 'No'
Save and quit back to the XMB, then go to Game Data Utility and delete the Gran Turismo 6 1.01 file
Reload the game but do not download the 1.01 update and do not sign-in when PSN prompts.
Enter the Garage and view 'Car List', later, select the Mercedes-Benz which is now displayed as [2055]
Player has to now sell it. Though it will be displayed as 333,993,856 Credits but later appears as 20 million after the completion of the transaction.
Save, quit then reload to install the 1.01 patch again.
(YouTube Courtesy: RajmanGaming HD)