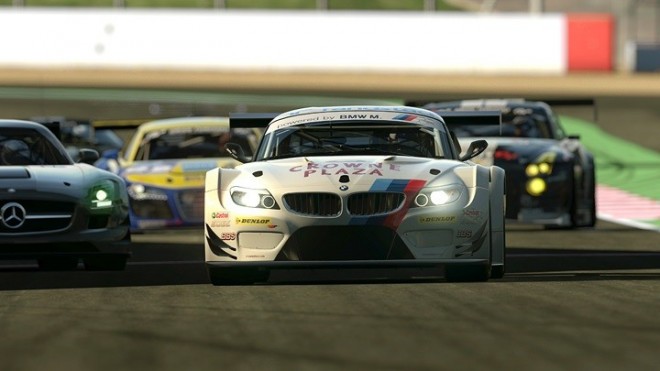 Upcoming sim racing game Gran Turismo 6 from developer Polyphony Digital and publisher Sony Computer Entertainment has revealed new details about its GPS Logger feature.
The GPS Logger is a new feature that is being introduced into the game. In order to work, this feature will make use of the GPS function in a phone or a tablet to create tracks that will be based on their daily commutes in the Course Maker of the game.
"Drivers will be able to record real GPS data from their own car and then recreate the route as a track in the game. The 'GPS Visualizer' also utilises GPS coordinate data from a real car on the real-life versions of the GT6 circuits. The data can then be imported into GT6 to create a 'virtual' replay image of your laps in the game," Sony said in a statement.
Players will be access to the Course Makers only after the launch of Gran Turismo 6 on 6 December. It will be a PlayStation 3 exclusive.
The game will feature more than 1200 cars with 100 track layouts, it will also introduce some new circuits like Mount Panorama, Ascari, Silverstone and Goodwood into the game, CVG reported.
The game will also have astronomical simulation system where players will be able to enjoy the night racing scene too. "On night tracks you can enjoy a simulated night sky with accurate positions of the stars and constellations. You can watch the passage of time, with the moon and stars moving across the night sky as you would see in real life," said the official Gran Turismo 6 website.
(YouTube Courtesy: GranTurismoOfficial)

(YouTube Courtesy: GranTurismoOfficial)

List of 124 New Cars
A list of 124 new cars was listed by Eurogamer that includes both FIA GT cars and some exotic vehicles. The report also stated its disappointment in the game missing out on Toyota's TS030, McLaren P1 and LaFerrari.
Below is the list of 124 new cars added:
Abarth 500 '09
Abarth 1500 Biposto Bertone B.A.T 1 '52
Abarth Grande Punto '09
Alfa Romeo MiTo 1.4 T Sport '09
Alfa Romeo TZ3 Stradale '11
Alpine A110 1600S '72 67
Aston Martin One-77 '11
Audi R18 TDI (Audi Sport Team Joest) '11
Audi R18 TDI Prototype '11
Audi R8 LMS - Team Oreca '10
Audi R8 LMS ultra '12
Audi R8 LMS ultra (Audi Sport Team Phoenix) '12
Audi Sport quattro S1 Pikes Peak '87
Audi Sport quattro S1 Rally Car '86
Autobacs Garaiya GT300 Base Model '08
Bentley EXP Speed 8 '03
BMW 507 '57
BMW E92 M3 (BMW Motorsport) '10
BMW M3 GT (BMW Motorsport) '11
BMW M3 GT2 Base Model '11
BMW Z4 GT3 '11
BMW Z8 '01
Bugatti Veyron 16.4 '13
Cadillac CTS-V Coupe '11
Chevrolet 2013 Dale Earnhardt Jr. #88 National Guard CHEVROLET SS '13
Chevrolet 2013 Jeff Gordon #24 Drive to End Hunger CHEVROLET SS '13
Chevrolet 2013 Jimmie Johnson #48 Lowe's CHEVROLET SS '13
Chevrolet 2013 Juan Montoya #42 Target CHEVROLET SS '13
Chevrolet 2013 Tony Stewart #14 Bass Pro Shops CHEVROLET SS '13
Chevrolet Corvette Coupe (C2) '63
Chevrolet Corvette Stingray (C7) '14
Chevrolet Corvette StingRay Racer Concept '59
Chevrolet El Camino SS 396 '67
Chevrolet Nova SS '70
Cizeta V16T '94
DeltaWing '12
Ferrari 250 GT Berlinetta passo corto CN.2521 '61
Ferrari 250 GTO CN.3729GT '62
Ferrari 365 GTB4 '71
Ferrari Dino 246 GT '71
Ferrari FXX '07
Ferrari GTO '84
Fisker Karma EcoSport '12
Ford 2013 Aric Almirola #43 Farmland FORD FUSION '13
Ford 2013 Carl Edwards #99 Fastenal FORD FUSION '13
Ford Focus ST '13
Ford Ford GT '05
Ford Ford Shelby GT500 '13
Ford GT40 Mark I '66
Ford Mustang Boss 302 '13
Gran Turismo RACING KART S125
Honda FIT RS '10
Honda HSV-010 GT Base Model '12
Honda KEIHIN HSV-010 '12
Honda NSX GT500 Base Model '08
Honda RAYBRIG HSV-010 '12
Hyundai Genesis Coupe 3.8 Track '13
Jaguar XKR-S '11
Jay Leno 1966 Oldsmobile Toronado
KTM X-BOW R '12
KTM X-BOW Street '12
Lamborghini Countach 25th Anniversary '88
Lamborghini Countach LP400 '74
Lamborghini Diablo GT '00
Lamborghini Diablo GT2 '98
Lamborghini Reventon '08
Lancia STRATOS '73
Land Rover Range Rover Evoque Coupe Dynamic '13
Lexus IS350 GT300 Base Model '08
Lexus SC430 GT500 Base Model '08
Light Car Company Rocket '07
Lotus Elise '11
Lotus Europa S.2 '68
Lotus Europa Special '72
Mazda DEMIO SPORT '10
Mazda RX500 '70
McLaren F1 GTR - BMW (Kokusai Kaihatsu UK Racing) '95
McLaren F1 GTR Race Car Base Model '95
Mercedes-Benz SLS AMG GT3 '11
2011 Monster Sport SX4 Pikes Peak Special '11
Monster Sport SX4 Base Model '11
Nissan GT-R GT500 Base Model '08
Nissan GT-R NISMO GT3 '13
Nissan GT-R NISMO GT3 Base Model '13
Nissan GT-R NISMO GT3 N24 Schulze Motorsport '13
Nissan Z GT500 Base Model '06
Pagani Huayra '11
Pagani Huayra '13
Peugeot Peugeot 908 HDi FAP Base Model '10
Peugeot RCZ '10
Plymouth AAR Cuda 340 Six Barrel '70
Plymouth XNR Ghia Roadster '60
Pontiac Firebird Trans Am '78
Pozzi MotorSports Camaro RS
RE Amemiya RX7 GT300 Base Model '06
Renault R8 Gordini '66
Renault Sport Clio R.S. '11
Renault Sport Mégane R.S. Trophy '11
Renault Sport Mégane Trophy '11
Renault Sport Mégane Trophy Base Model '11
Shelby GT350 '65
Shelby Cobra Daytona Coupe '64
SRT Charger SRT8 '11
SRT Viper GTS '13
SRT Viper GTS Launch Edition '13
Stielow Engineering Red Devil
Subaru BRZ GT300 Base Model '12
Subaru IMPREZA GT300 Base Model '08
Subaru IMPREZA WRX STI spec C '09
Subaru S206 NBR CHALLENGE PACKAGE '12
Subaru SUBARU BRZ R&D SPORT '12
Tajima 2012 Monster Sport E-RUNNER Pikes Peak Special '12
Tesla Motors Model S Signature Performance '12
Toyota 2013 Denny Hamlin #11 FedEx TOYOTA CAMRY '13
Toyota 2013 Kyle Busch #18 M&M'S® TOYOTA CAMRY '13
Toyota 2013 Matt Kenseth #20 Dollar General/Home Depot TOYOTA CAMRY '13
Toyota 86 Race Car Base Model '12
Toyota Aqua S '11
Toyota Supra GT500 Base Model '05
TOYOTA 86 "Racing" '13
Toyota Vitz F '12
Volkswagen Scirocco GT24 (Volkswagen Motorsport) '08
Volkswagen Scirocco GT24 Base Model '08
Lunar Roving Vehicle LEV-001 '7