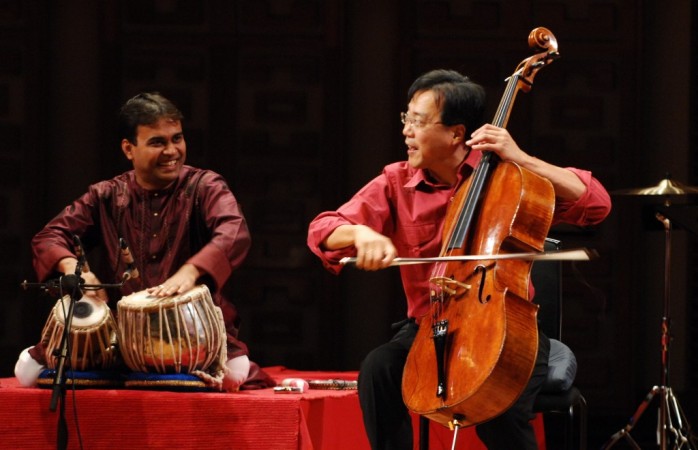 The star-studded Grammy night has come to an end. While Adele, Beyonce and Lady Gaga made the night count, the highlight of the evening from an Indian perspective was Sandeep Das's Grammy win.
Also Read: Grammys 2017: Adele, David Bowie & Chance The Rapper steal the show; here's the list of winners
The Indian tabla player was part of Yo-Yo Ma's Silk Road Ensemble Sing Me Home which won a Grammy in the World Music category. The nominations in this category also featured sitarist Anoushka Shankar's Land of Gold.
The album was launched to accompany a documentary on a project called The Music of Strangers: Yo-Yo Ma and The Silk Road Ensemble. The album featured not only Ma and Das, but also included New York-based Syrian clarinet player Kinan Azmeh.
Das has been nominated for Grammys three times and is a well-known table player across the world. Having been in the industry for 23 years, he has worked with international artists including The Silk Road Ensemble and String quartets. He was also part of The New York Philharmonic, The Chicago Symphony Orchestra, and the The Boston Symphony Orchestra. He has launched 40 CDs among which three have been nominated for Grammy Das is an artist, educator, composer, speaker and a cultural entrepreneur. He lives in Boston.
He trained under Pt Kishan Maharaj of the Benaras Gharana and had played alongside Pt Ravi Shankar, Ustad Amjad Ali Khan, Pt Hari Prasad Chaurasia, Pt Shiv Kumar Sharma and Dr L Subramaniam. He first visited the US in 1991 and eventually shifted there.
Das was seen dressed in a red kurta while receiving the award, sending a powerful message of unity and respect of all cultures. The news of his win was also confirmed by Shubha Mudgal who congratulated Das on Twitter.
According to Business Times, Ma set up The Silk Road Ensemble to bring together musicians from the historic route connecting the Middle East and Asia, to find artistic commonalities and encourage inter-cultural understanding.
Accepting the award on behalf of the team, the Russian-born, New York-based violinist Jonathan Gandelsman said, "We were strangers but having worked together over the past 15, 20 years has enriched our lives tremendously."
While addressing the media after winning the award, Das addressed the issue of Muslim ban and said, "When things like this happen, it impacts us directly because a lot of us come from a lot of those countries. In the current situation, I think we'll keep playing more music and sharing more love."
Sing Me Home won against Shankar's Land of Gold, which deals with the global refugee crisis.