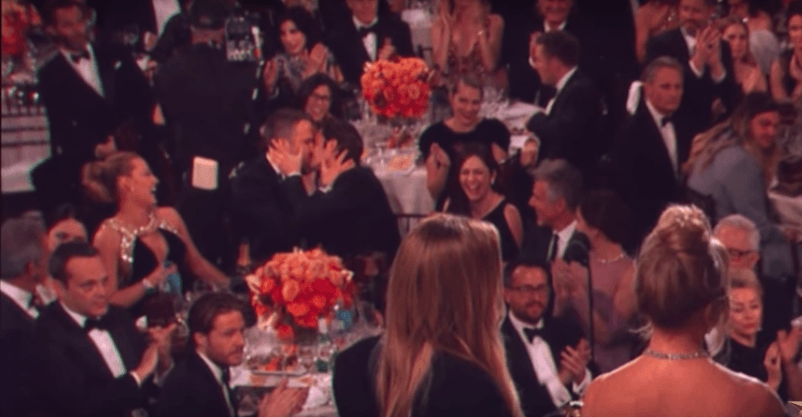 Remember the iconic kiss between Andrew Garfield and Ryan Reynolds that stole the limelight from Ryan Goslings Best Actor Award at the Golden Globes? Apart from the awardees and the politically correct speeches, the duo's kiss made headlines in January. It seems like the duo are now set to repeat history at the Oscars this year, or so Graham Norton thinks.
Also Read: Watch: Andrew Garfield makes out with THIS star after explaining why he kissed Ryan Reynolds
Appearing on The Graham Norton Show, host Graham Norton tipped off the discussion about the incident with Garfield speculating that he and Reynolds could kiss again at the Academy Awards this year. An embarrassed Garfield spoke on behalf of him and Goslings stating that the "ridiculous" incident may not repeat in the award function.
Revealing details of why exactly the two suddenly kiss, the Oscar nominated actor shares, "It was a ridiculous thing. I said to Ryan Reynolds, 'If you win, kiss me instead of your wife [Blake Lively].' And he said, 'Yeah, that's great.' And the plan was that he would kind of move towards his wife, and then kind of last minute lean in to it. And then he didn't win, much to our disappointment, so I said to Ryan, 'We can still just do it if we want.' And he was game."
The actor was accompanied by Annette Bening on the show. Apart from discussing about the golden kiss, the actor also spoke about working with Mel Gibson. The actor revealed that he was warned by many before he decided to work with the 61-year-old actor.
"That was a big thing for me to look at. Obviously you hear things and you read things about a dark patch in his life but for me it was about meeting him. All I knew was that I loved him as an actor and as a filmmaker but I wanted to know the man. I met him and very quickly I felt very comfortable and happy to work with him," Garfield revealed. The actor is seen with Gibson in Hacksaw Bridge.