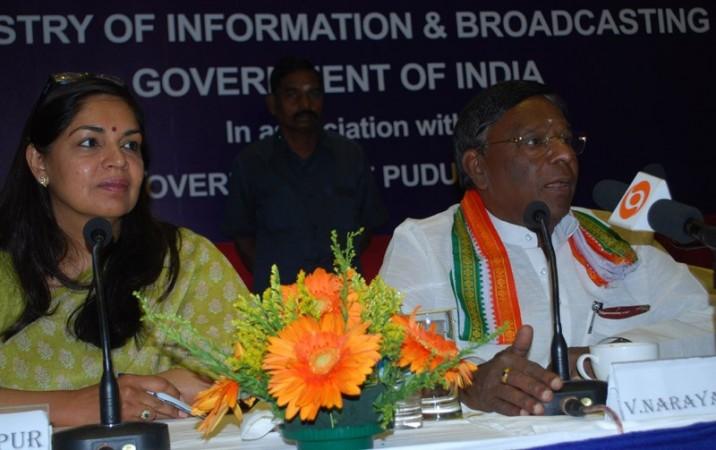 The Congress-led United Progressive Alliance (UPA) government is taking proactive steps for curbing corruption in public life and no one is being protected, says the Minister of State in the Prime Minister's Office and in the Dept. of Personnel, Public Grievances and Pension V. Narayanasamy.
Addressing the All-India Editors' Conference on Social Sector Issues in Puducherry Saturday, he said the government had passed the Lokpal Bill in the Lok Sabha but due to lack of majority in the Rajya Sabha, the Bill is still not through.
However, "the government is committed to bring a strong and effective Lokpal Bill and, therefore, looking into the various amendments suggested in the Rajya Sabha," said the Minister.
Right to Information Act 2005, Whistle Blowers' Bill, Judicial Accountability Bill, Citizens' Grievance Redressal Bill, Reforms in Procurement and in Mining Sector, Administrative Reforms are some of the areas where the Prime Minister Manmohan Singh government has taken key initiatives to bring transparency and curbing corruption since it came to power in 2004.
Highlighting the various aspects of "the Right of Citizens for Time-bound Delivery of Services and Redressal of Their Grievances Bill," which was passed on Dec 2011 in Parliament, Narayanasamy said that, every public authority is required to publish a citizens' charter specifying the category of goods supplied and services rendered by it, the time frame within which such goods shall be supplied or services rendered.
To establish information and facilitation centre for efficient and effective delivery, of services and redressal of grievances and to designate grievance redress officer in all public authorities to enquire into and redress any complaints from citizens, he added.
He also said that the Whistle Blowers' Bill tabled in Lok Sabha will provide adequate protection to persons exposing corruption or willful misuse of power or willful misuse of discretion which causes demonstrable loss to the government or commission of a criminal offence by a public servant.
Narayanasamy said that the UPA Government has removed the discretionary quota of the union ministers so that there is no room left for corruption.
A Group of Ministers (GoM) was constituted by the government in Jan 2011 to consider measures that can be taken by the government to tackle corruption.
Further he mentioned that, the GoM has submitted its first report which has already been accepted by the government with some minor modifications and action had been initiated by the government towards implementation of the accepted recommendations.
The Minister said that to bring efficiency in the administration, major initiatives have been taken through administrative reforms.
Referring to the measures to strengthen CBI, the Minister said it was decided to set up 71 additional special courts for CBI in various states of the country to expedite adjudication of the pending cases and 51 courts have already been sanctioned.