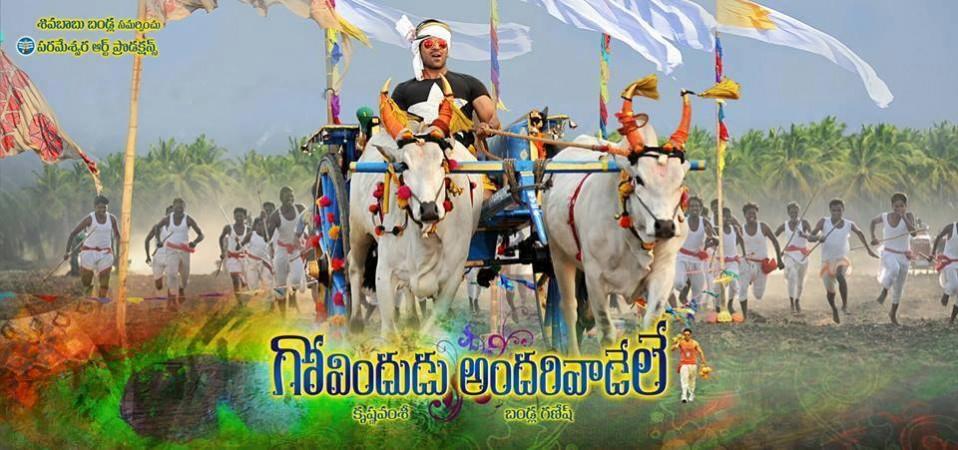 Ram Charan's "Govindudu Andarivadele" ("GAV") has received positive reviews from critics.
Directed by Krishna Vamsi, "GAV" has Ram Charan and Kajal Aggarwal in lead roles. The family entertainer also has Prakash Raj, Srikanth, Jayasudha and Kamalinee Mukherjee in supporting roles. Yuvan Shankar Raja has composed the songs, while the film is produced by Bandla Ganesh.
"GAV" is carrying positive buzz and it remains to be seen if the film will impress the audience.
Plot: Abhiram (Ram Charan) is an NRI brought up in London. From his father Raghu (Rehman), Abhiram comes to know about his extended family in India. He returns to India to meet his father's joint family in a bid to reunite them with his father. How he solves some problems among the family members and wins their love forms the crux of the story.
Prakash Raj and Jayasudha play grandparents to Ram Charan, while Srikanth appears as his uncle. There is also a love track between Kajal and Ram Charan and a parallel track involving Kota Srinivasa Rao, Rao Ramesh and Posani Krishna Murali. Adarsh Balakrishna plays the bad guy in the film.
Critics have given positive feedback to "GAV" stating that the film is a perfect family entertainer. They have appreciated director Krishna Vamsi for extracting stellar performances from the actors.
Charan's performance has won accolades, with critics citing that it is his career's best. Kajal charms in her glamorous avatar and her chemistry with Ram Charan strikes once again after "Magadheera."
Performances, songs, family emotions and the climax are the major highlights of the film and it is a perfect festival treat for fans, said the critics.
Check below the review roundup of "Govindudu Andarivadele"
"It has been long since Vamsi convincingly told a story; he makes a thorough comeback riding on the acting performances of Cherry, PR and Jayasudha. Minus all the exaggerated acts that were seen in 'Chandamama', this film has the hero dominating the audience's mind space over other family members," according to Indiaglitz.
"With Govindudu Andarivadele, it is once again proved that Krishna Vamsi is a master at making family entertainers. He brings out stunning human relationships, and sketches an entertaining family drama. Charan's career best performance, Kajal's glamour and superb performances from the supporting cast, make this film a must watch for the entire family," according to 123telugu.
"Govindudu Andarivadele is a welcome change for the Telugu audience who are being served with so called time pass entertainers. GAV doesn't have any brand new story or treatment. We have seen similar kind of movies many a time. But Krishna Vamsi presented it in an emotionally engaging fashion," according to Gulte.
Technical Aspects: "Yuvan Shankar Raja's music is in perfect sync with the theme of the film and adds a lot of value to the project. Picturization of songs has been too good, especially Neeli Rangu and Ra Ra Kumara. Sameer Reddy's cinematography is colorful and full of life. Art Direction is appreciable. Costumes by Neeraja Kona were apt. Dialogues are very well written. Editing could have been better. Production Values are grand," according to AP Today.
Box Office Prospects: "GAV" is likely to take good openings owing to positive reviews. The Dussehra holidays is expected to help in boosting the film's collections. Whether Ram Charan will have another festival winner (after "Naayak" and "Yevadu") is something that will be known in a few days.
Verdict: Perfect Family Treat