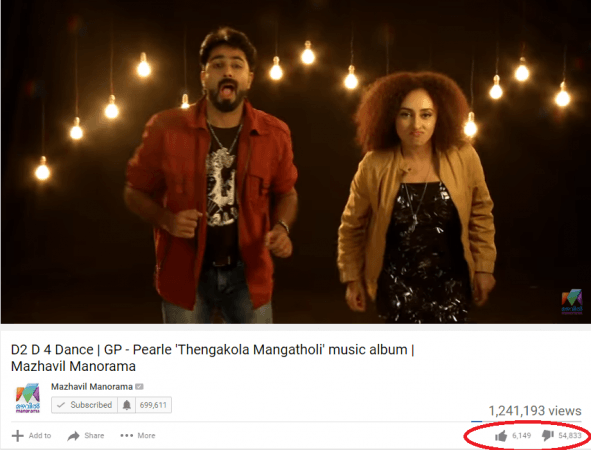 Social media users are venting their anger on the Malayalam music video "Thengakola, Mangatholi", which was released during the grand finale of Gum On "D2 - D4 Dance" on Sunday, 13 September. Some have even called it worse than the videos made by Santhosh Pandit, the controversial film director.
"Thengakola, Mangatholi" - sung by television anchors Govind Padmasoorya (GP) and Pearle Maaney was also uploaded on YouTube on Sunday. Though the video has gone viral on the video sharing website, it has been disliked by more than 24,000 users. It has managed to garner only about 1,500 is 'likes' at the time of reporting.
While many users posted negative comments on the official Facebook pages of GP, Pearle and Mazhavil Manorama, there are others who want to see the fun part of it.
Meanwhile, GP has come forward with an explanation regarding the quality of the video. "The reason behind making a music video like this was just to create a platform for actor Sreejith -- who used to anchor the first D4 Dance -- to host the finale episode of the reality show," GP posted on Facebook.
Another romantic music video of the duo - "Suno na sange mar mar" - which was also released on Sunday, has been receiving positive responses on social media.
Check out some social media responses on "Thengakola Mangatholi" video below:
Benito Hermis
GP... it was terrific... had some standards till date but final was too much...!!!!!! hope you correct yourself ahead.. Wht was tht award nd all.. Have you never felt it was too awkward to set up something like that in that show..!!!! I couldnt understand how those vip guests and audience bear this..!!
Anjana Sudhakaran
Should take it in the right sense..they did it just for fun...they had already told it before...don't take it sooo seriously and criticize it...and do appreciate for their efforts in making this a successful program..they r the real entertainers...keep going Govind Padmasoorya and pearle maaney:)
Ahana.C
What kind of song is this?? :@ #ThengaKola. No wonder in scoring huge number of dislikes on YouTube channel.
regular~esque
@Pearle_Maaney @padmasoorya Amazing teamwork, both of you! #Thengakola #Mangatholi is the newest anthem
Check more memes HERE
Watch the music videos below: