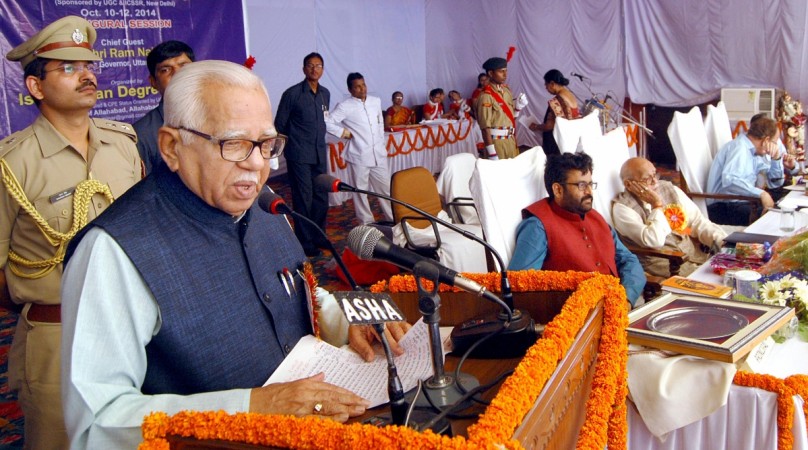 Uttar Pradesh governor Ram Naik stirred up a hornet's rest on Friday with some rather indiscretionary remarks about the Ram Temple. Naik said that the temple should be built in Ayodhya at the site of the razed Babri Masjid as per the "wishes of Indian citizens". The timing of the comments is sure to leave plenty of unanswered questions amid a row over alleged religious conversions in the state.
"Ram Mandir should be built as soon as possible. That is the wish of the Indian citizens and the wish should be fulfilled," said Naik during the convocation programme of Awadh University at Faizabad, where he was the chief guest. Naik had last month, during a visit to Ayodhya said that the vexed issue would be resolved within five years as Prime Minister Narendra Modi was working out a plan to sort it out peacefully.
Naik, a former BJP MP and a Union minister, was named the UP governor in July this year after the NDA government came to power at the Centre.
Hashim Ansari, the oldest litigant in the Babri Masjid case, while reacting to Naik's remarks said, "I have stated earlier that we are ready to come to the negotiation table but before we start talks, the Union government must ensure that the accused in the Babri Masjid demolition case must be punished."
Ansari expressed his displeasure about the fact that not a single person had been punished in the trial that had now been lingering for 22 years, reports Hindustan Times.
The BJP and Shiv Sena however did not find anything controversial about Naik's comments.
"Is it wrong to take Ram's name? Is it wrong to construct Ram's temple? Is the belief [sic] of millions in Lord Ram is wrong? Opposition should raise valid issues before the public and not spread propaganda," said BJP spokesman Sidharth Nath Singh.
BJP leader Sakshi Maharaj echoing the same thoughts said that there was nothing wrong if Naik was supporting the cause of the temple.
"Agar Ram Naik ji Ram ke nayak ban gaye hain to isme kuch bura nahi hai. Duniya ki koi taqat mandir banne se nahi rok sakti (There is nothing wrong if Ram Naik has become the supporter of Ram. There is no power in the world that can stop the construction of the temple)," Maharaj, who grabbed the headlines for his recently-aired views on Nuthuram Godse, said.