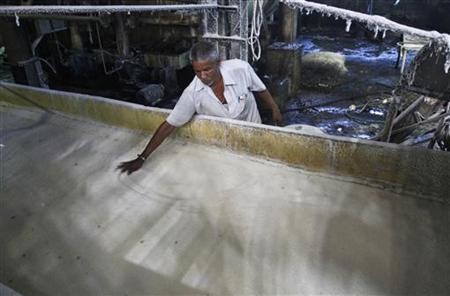 India is all set to raise the import duty on sugar, in order to boost the domestic industry. The government decided on Monday to raise the import duty on sugar from 15 percent to 40 percent.
The government is also seeking to revive the sugar mills business by promising mill owners incentives once they guarantee to clear the dues they owe farmers, which amounts to around ₹110 billion ($1.84 billion).
"We have reached a consensus to raise the import duty to 40 percent," Reuters quoted Food and Civil Supplies Minister Ram Vilas Paswan, post his meeting with senior government officials.
India is understood to be the largest consumer of sugar in the world. The steep hike in import duty will make overseas purchases untenable for refiners and is especially going to affect shipments from sugar suppliers such as Brazil, Thailand and Pakistan.
Paswan has also extended the subsidy on raw sugar exports till September. India increased the subsidy for raw sugar earlier this month to boost exports.
While the move has been taken with a view of boosting sugar exports, large-scale exports are unlikely this year, since most of the raw sugar output for the year has already been exported, as per reports.
Local sugar prices jumped 1.5 percent following the announcement, and sugar stocks soared over 10 percent as per The Economic Times.
The government's plan also included the revival of the sugar mills in the country, and it is set to provide additional interest-free loans of ₹4,400 crore to sugar mills to help them make overdue payments to cane farmers, as per officials from the food ministry.
India is likely to export more than two million tonnes of sugar in 2014-15, a commodities executive was quoted saying earlier this month. India has been producing a surplus of sugar for the last five years. Though there are chances of a weak monsoon this year, India's sugar exports are still likely to touch the two-million mark.