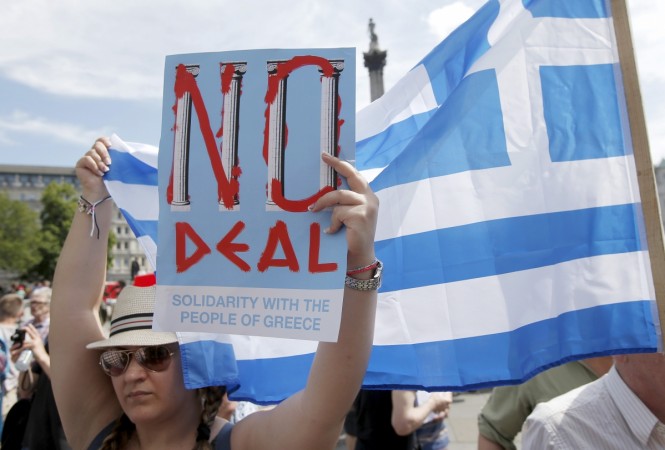 The government on Monday said India is closely monitoring the Greek situation and euro market movement after the rejection of creditors' austerity proposals in a referendum posed the possibility of Greece's exit from the Eurozone. It asserted that India is well insulated from the crisis, but rupee may get affected due to the outward flight of investment.
Chief Economic Advisor Arvind Subramanian said "this is a drama which is going to play out for sometime".
Greeks had on Sunday rejected a rescue package from its international creditors, throwing the future of the country's Eurozone membership in doubt. Over 61 per cent of them voted "no", responding overwhelmingly to Prime Minister Alexis Tsipras' calls to reject a proposal by the country's creditors for more austerity in exchange for a financial bailout.
"We are well protected in at least three ways. Our macro economic situation is much more stable. We have (forex) reserves. We are an economy which is still a very attractive investment destination. So I think we are relatively well insulated," PTI quoted Subramanian as saying.
"As for the crisis itself, it is going to be long and prolonged. Tomorrow is a big meeting of the German and the French head of the states. Let's see, it is up to Europe to respond," he said.
"In these situations what mostly happens is there is flight to dollars, to a safe haven. Rupee might also be affected by that. But nothing gets unusual at all so far," Subramanian said on the likely impact of the crisis on Indian economy, adding "financial markets are going to be volatile" as the crisis plays out.
Greece crisis may impact India indirectly: Finance secretary
"We will have to see how the euro moves now. We are closely monitoring the Greek situation. There could be some reaction on the Fed (US Federal Reserve) rate hike," finance secretary Rajiv Mehrishi said.
"The Greece crisis might impact India indirectly," Mehrishi said. Last week he had said that the fallout from Greece would not have a direct impact on India but capital flows would be a potential concern, even as the government was in touch with the Reserve Bank of India (RBI) to deal with any untoward situation.
India may feel the heat too, feels Assocham
The Indian Inc believed that if a crisis developed for Europe due to Greece, India too could feel the heat like the rest of the world.
"What is worrying is that the overall situation with regard to India's merchandise exports does not look promising this year and the troubles in Europe could only deteriorate the prospects... There is a need for RBI and the finance ministry to keep a close eye on the muddy global situation and its possible effect on India's capital flows and the currency movement," Associated Chambers of Commerce and Industry of India said in a statement.
- With IANS inputs