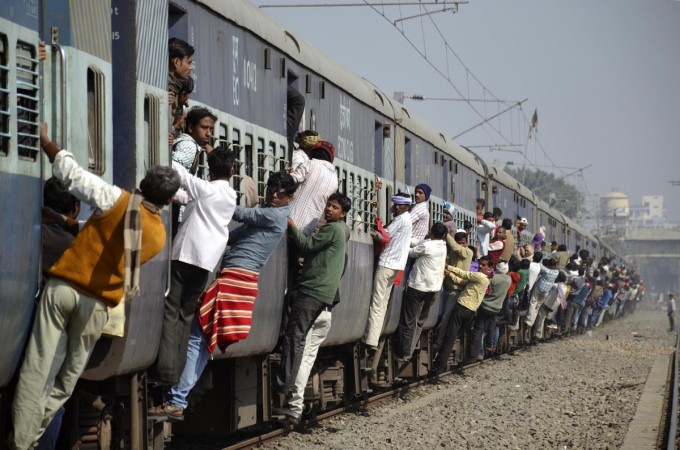 Not long after the finance ministry announced the possibility of a rail fare hike, the railway ministry has raised the ticket fare by 14.2 percent and freight charges by 6.5 percent.
The hike will be effective from midnight 20 June.
As indicated in the pre-budgetary meeting, the ministry announced the fare hike before the commencement of the General Budget session. The decision was taken to cope up with the slumping revenues which Indian Railways (IR) has been struggling with.
The NDA government resorted to hiking rail fares after seeing the poor revenues of the IR and the financial losses. According to reports, the railways suffer a loss of ₹26,000 crore yearly. The loss was incurred because of a drop in the number passengers, compared to the estimated number.
The railways suffer a loss of ₹900 crore monthly. Instead of collecting targeted ticket revenue of ₹42,210 crore yearly, the railways managed to garner ₹37,500 crore in FY14.
Union Railway Minister DV Sadananda Gowda will meet Prime Minister Narendra Modi in a couple of days, and discuss the proposal to increase ticket fare and freight charges, according to the Financial Express.
The hike was announced on 16 May, to be effective from 20 May, but the decision was postponed till the formation of the new government. Through the increase in the fares and freight charges, the railways aim at collecting ₹8,000 crore.
In a conference with the senior railway officials on Thursday, Gowda said that the decision to allow 100 percent Foreign Direct Investment (FDI) in the railways is likely to be taken before the General Budget Session.
"We are discussing the matter and, within three-four days, will come to a conclusion," the report quoted Gowda.
The FDI will be allowed in railway infrastructure including rolling stocks and tracks for high-speed trains, station development and warehouses
"We are short of resources. So, some resource mobilisation should be done as being one of the priorities of railways. I'm discussing the matter with the commerce ministry, which has mooted the idea and circulated a note on this," Gowda added.
It is understood that Modi's idea of not burdening the people with rail fare hike submerged under the huge losses incurred by IR.