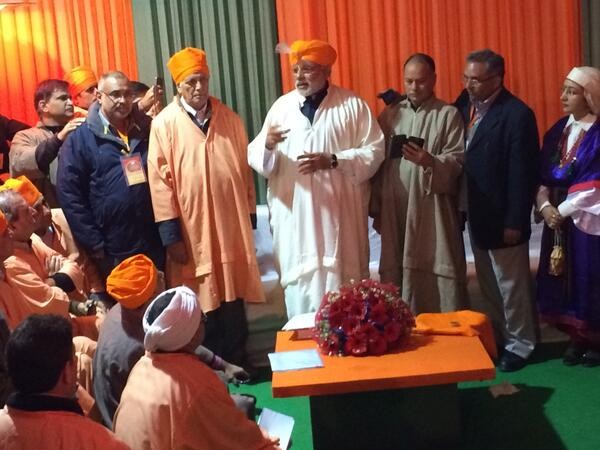 The Bharatiya Janata Party-led central government seems to have already started acting on its agenda promises, with the home ministry taking steps to assist Kashmiri Pandits in their rehabilitation in the Valley.
The Ministry is also set to announce packages of ₹20 lakh for Kashmiri Pandits for their return to the Valley, according to The Hindustan Times.
Home Minister Rajnath Singh is said to have taken the decision during a review meeting on Thursday, after which he tweeted about his instructions to officials to assist the Kashmir migrants to return.
"Also instructed the officials to take Kashmiri migrants into confidence and work on steps to be taken for their safe return to the valley," he said in a post. Singh had also tweeted about a meeting with the Jammu and Kashmir Affairs department of his ministry, in which he sought stringent steps to stop infiltration from across the border.
President Pranab Mukherjee had stressed on the rehabilitation of Kashmiri Pandits when he laid out the roadmap of the Modi government during his Parliamentary address on Monday.
Mukherjee had said that "special efforts will be made to ensure that Kashmiri pandits return to the land of their ancestors with full dignity, security and assured livelihood", according to PTI.
Modi had taken up the cause of the Pandits seriously after his meeting with them in January this year, when he expressed concern over injustice done to them. He had stated that "an attack on their rights was similar to an attack on the national ideal of Sarva Pantha Sambhav," according to his official website.
Jammu and Kashmir Chief Minsiter Omar Abdullah had last week tweeted about his keenness to work with the central government on the issue.
"I look forward to working with the new government as they unveil their plans for the honourable return of the displaced Pandit community," he said.
Assistance for the return of Kashmiri Pandits had earlier been announced by the UPA government in 2008, according to the Hindustan Times report, through which the government had offered a package of ₹7.5 lakh for the reconstruction of the houses of those Kashmiris who had sold their houses when the J&K Migrant Immovable Property (Preservation, Protection and Restraint of Distress Sale) was in force.
However, the BJP's plan will reportedly offer assistance, irrespective of when the Pandits had sold their houses in the state.
The northern state had seen a mass exodus of the Hindu Kashmiri Pandits in 1990, with some reports citing rising militancy as the cause, while some had blamed the state administration for the event.