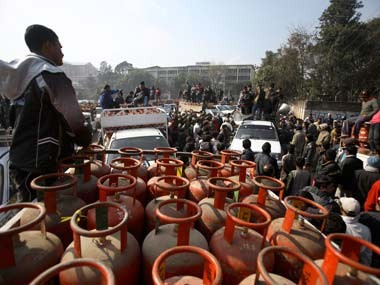 The government is looking into revising the annual cap on subsidized LPG cylinders, Minister of Petroleum & Natural Gas M. Veerappa Moily informed the Lok Sabha in a written reply on Friday.
The minister said he said received representations from various quarters requesting a revision in the current limit of six LPG cylinders per year.
According to the minister, the heavy subsidy on domestic LPG was bleeding the state-run oil companies.
"The OMCs need to be compensated in order not only to maintain their financial health but also to allow them to generate resources for capital expenditure, modernization and acquisition of assets for future growth, "Moily added.
After the implementation of the subsidy cap, domestic subsidized LPG is available for Rs. 410.50 per 14.2 kg cylinder and domestic non-subsidized 14.2 LPG cylinders cost Rs. 895.50 at Delhi.
After limiting the number of subsidized cooking gas cylinders to six, the three public sector oil companies have issued more than 10 lakh new connections.
"Public Sector Oil Marketing Companies (OMCs), namely, Indian Oil Corporation Limited (IOC)] Bharat Petroleum Corporation Limited (HPCL) have reported that 10,17,290 LPG connections have been issued after issue of orders on capping of subsidized cylinders," Minister of State for Petroleum & Natural Gas Panabaaka Lakshmi informed the LokSabha in a written reply.
"They have also reported that during the period from 2009 to September 2012, action has been taken against 1480 established cases of diversion against the erring distributorships under the provisions of Marketing Discipline Guidelines," she said.
Interestingly, the demand of commercial LPG cylinders has increased at par with domestic LPG cylinders during the last three years, according to the government data.