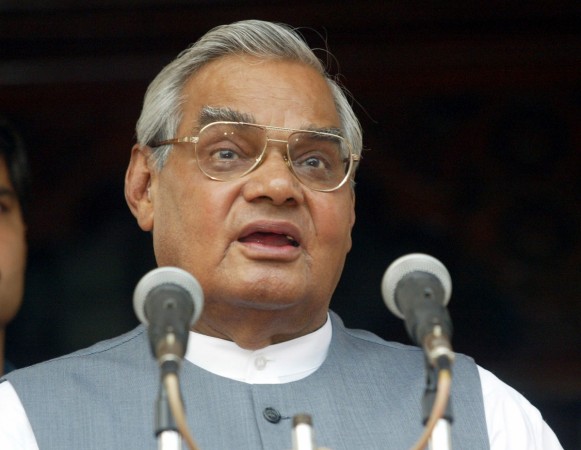 The Centre announced on Wednesday that the government will confer India's highest civilian award Bharat Ratna on former Prime Minister Atal Bihari Vajpayee and freedom fighter Madan Mohan Malaviya (posthumously).
The decision was taken after a cabinet meeting held at Prime Minister's official residence at 7, Race Course Road on Wednesday morning. The meeting was attended by various leaders including Arun Jaitley, Sushma Swaraj, Nitin Gadkari, Rajnath Singh and BJP president Amit Shah.
Following the meeting, Prime Minister Narendra Modi recommended the names to President Pranab Mukherjee, who is said to have been pleased with the choice.
"The President has been pleased to award Bharat Ratna to Pandit Madan Mohan Malaviya (posthumously) and to Shri Atal Bihari Vajpayee," NDTV cited a statement from Mukherjee's office.
Vajpayee will be conferred with the prestigious award for his contribution to the nation-making during his term as the nation's PM. Not just the political fraternity has appreciated the government's decision to confer this honour on Vajpayee; people across India too have expressed their happiness on the announcement.
Calling Vajpayee a true patriot, BJP's veteran leader LK Advani said: "A Bharat Ratna for Atal Bihari Vajpayee should not be seen in terms of a reward for doing his duty but as an award that recognises his stature. It would be very appropriate and befitting for a patriot like Vajpayee," IBNLive reported.
Outgoing Jammu & Kashmir Chief Minister Omar Abdullah too appreciated the decision and said that the Congress should have done this several years ago.
"I wish the UPA government had risen above politics and conferred the Bharat Ratna on Vajpayee sahib, would have been a fitting gesture," Omar said on Twitter.
Twitterati too commended BJP's decision to finally confer India's highly honoured award on Vajpayee.
Aaj BJP ne Bharat Ratna ka samman kiya hai Shri Atal G ko Bharat Ratna deke... Bahut hi khoobsurat din!!!

— Mahendra Dhaker (@iamSRKnistic) December 24, 2014
Much delighted to hear that former PM Atal Bihari Vajpayee and Pandit Madan Mohan Malaviya have been honoured with the #BharatRatna

— Sushmit Sarkar (@sushmitsarkar) December 24, 2014