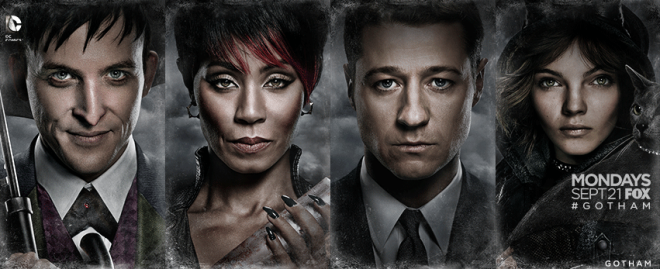 When "Gotham" returns on Fox with season 2 on Monday, 21 September, it will revolve around new twists and turns in the lives of Detective James Gordon (Ben McKenzie), Harvey Bullock (Donal Logue), Oswald Cobblepot aka Penguin (Robin Lord Taylor) and Selina Kyle aka Cat (Camren Bicondova).
The cast and crew of the crime drama, including executive producers Danny Cannon, Bruno Heller, John Stephens and Ben Edlund, revealed new details about the upcoming sequel at the Warner Bros Television Panel of San Diego Comic Con 2015.
While actress Bicondova hinted that viewers can expect to see a big part of her character's background in the second season, McKenzie stated that new heroes will be introduced in the sequel.
"As the villains rise, there is an arms rise and good guys have to increase their forces well and I think there will be new heroes introduced on the good guys side who have to plan together and fight the rise of the villains," said the actor.
The 36-year-old even teased that the relationship between Gordon and Bullock will be more complex. "I think its grown more complex. The two of them understand each other better. Harvey has shown Jim lot of things about how the city actually works. I think there is a mutual respect," he said.
Meanwhile, executive producer Heller revealed that season 2 of "Gotham" will have a new breed of villains. According to him, unlike the first sequel that revolved around the mafia and old school kind of crime, viewers can expect an epic story in the next sequel.