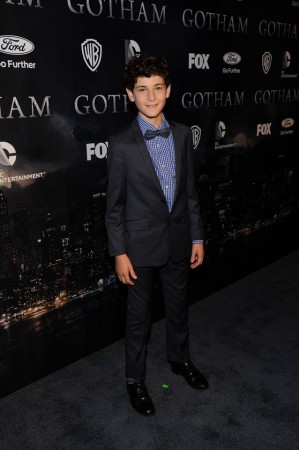 Fox superhero series "Gotham" has started its journey through the evil city with the twin murder of billionaires Thomas and Martha Wayne, but the high profile murder case took a back seat in the second episode of the Batman show.
Though the mysterious case of kidnapping young homeless kids did put a halt on Wayne's case, the young Bruce (David Mazouz) seems to be still under the trauma of his parents' death.
The second episode of "Gotham" titled "Selina Kyle" portrayed the young Bruce experimenting with self-mutilation. In the opening scene of the episode, he burned his hands with candle to check his tolerance, reported The Washington Post.
The 12-year-old boy seems to have lost his trust on the law since he prepares himself to punish his parents' culprits. The recently released sneak peek video of the upcoming episode of "Gotham" shows Bruce doubting the law system of the city.
In the 30-second-long clip, Bruce's loyal butler Alfred Pennyworth (Sean Pertwee) confronts him saying, "Detective Gordon will find the person who killed your parents."
But he does not seem to be convinced as he asks, "you really believe he will?"
In the premiere episode of the superhero series, Detective James Gordon (Ben McKenzie) promises the young boy that he will get to the bottom of the case.
"No matter how dark it may be right now, there will be light," he said.
However, Gordon gets entangled with other mysteries surrounding the "Gotham" city and he puts Waynes' case on-hold.
It remains to be seen whether little Bruce is planning to take law in his hands. But there is surely a person in the "Gotham" city to tangle with the bad guys and he is called "The Balloonman".
The official synopsis of "Gotham" season 1 episode 3 titled "The Balloonman" reads, "Detectives Gordon and Bullock track down a vigilante who is killing corrupt Gotham citizens by attaching them to weather balloons. Meanwhile, Oswald Cobblepot returns to Gotham and gets a new job close to an influential figure."
Watch the sneak-peek of "The Balloonman" below: