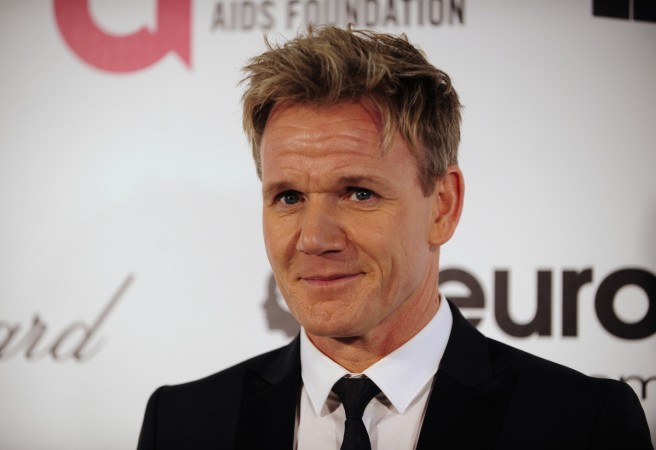 If you are a fan of cooking shows on television, you cannot possibly miss the internationally renowned chef Gordon Ramsay's witty rants on Hell's Kitchen. However, this time the outspoken celebrity chef may have landed himself in hot water for his comments mocking vegans and animal rights organization.
Many amateur chefs tweet pictures of the dishes they've cooked and expect a reply from the British chef on Twitter. Ramsay, a highly popular figure on social media for his responses to culinary creations from fans across the world has hit a roadblock this time.
This time the chef found himself arguing with a user after his comments upset the vegan community and animal rights organization People for the Ethical Treatment of Animals (PETA) in a single tweet. Ramsay has often sparked furious debates offending vegan community in the past as well.
The 51-year-old television personality is known for his boldness and an outspoken mind; a person who is not afraid to say what he feels like, be it on television or on social media.
This time, a Twitter user called Ray (@thiccqueer) posted a photo of his vegan lasagna and asked Ramsay "How does my vegan lasagna look?"
Ramsay who is known for his witty responses tweeted back "I'm a member of PETA! People eating tasty animals." The response received polarizing reactions from the Twitterati, having been retweeted 44,000 times and liked more than 150,000 times.
The tweet prompted a lot of responses, and more importantly a lot of memes on Ramsay as well. A section of the Twitterati even came to Ramsay aid and said that he managed to "trigger" the vegan community.
Ramsay's tongue-in-cheek response also made PETA respond with their own take on the debate. They quoted Paul McCartney and tweeted "If slaughterhouses had glass walls, everyone would be vegetarian."
Oh, dear, Gordon. We've heard that old line before. While you're spending time mocking the future #vegan we're betting you one day become, most chefs are exploring healthy, animal- & environment-friendly #PlantBased dishes.

— PETA (@peta) February 2, 2018
A real "hell's kitchen" is full of corpses & secretions from artificially inseminated, castrated, & routinely abused animals. As Paul McCartney said, "If slaughterhouses had glass walls, everyone would be #vegetarian."

— PETA (@peta) February 2, 2018
"I respect your choice to be vegan. Now respect my choice to be an omnivore. Thnx. His comment is perfectly valid if you think about it", a Twitter user responded to Gordon's tweet.
Here is how Twitterati reacted with GIFs: