Over 60 children have lost their lives within a span of five days at Baba Raghav Das Medical College Hospital in Uttar Pradesh's Gorakhpur district. At least 30 children died in last 48 hours reportedly due to disruption of oxygen supply at the hospital due to non-payment of dues to the supplier.
The Uttar Pradesh government has ordered an inquiry into the incident even as the opposition parties demand compensation to the families of the deceased children. Congress has also demanded that Chief Minister Yogi Adityanath and Health Minister Siddharth Nath Singh must resign from their positions on moral grounds.
The deaths of the children were caused due to infections and possible diruption of oxygen supply in the paediatrics ward. However, the district administration has rejected lack of oxygen supply as the reason behind the deaths.
The deaths come two days after Aditynath visited the hospital in Gorakhpur, his Lok Sabha constituency, to inspect the paediatric ward. The CM had also inaugurated an Intensive Care Unit (ICU) and a Critical Care Unit (CCU). He also visited a ward set up to treat children suffering from Acute Encephalitis Syndrome (AES), a Japanese virus.
Here are the LIVE updates:
5:45 pm IST: Union Health Minister JP Nadda spoke to Adityanath and assured him of assistance from the Centre, ANI reported adding that the UP CM has assured Nadda that "all aspects of deaths at BRD Medical college are being examined."
5 pm IST: "What will be the future of a country whose children are dying of these diseases? It's a challenge. It's distressing, but we have to find a solution to this distress," says Aditynath referring to the Gorakhpur tragedy.
4:30 pm IST:
Wrote my resignation prior to that (suspension) taking responsibility of death of innocent children: Suspended Principal,BRD medical college pic.twitter.com/m1Xy33kCuy

— ANI UP (@ANINewsUP) August 12, 2017
3:55 pm IST:
High level probe to take place, headed by Principal Secy. Will wait for report, action will be taken. Till then suspending principal: Tandon pic.twitter.com/YzXSygAFz2

— ANI UP (@ANINewsUP) August 12, 2017
3:53 pm IST: The Prime Minister's Office (PMO) finally tweets on the matter.
PM is constantly monitoring the situation in Gorakhpur. He is in constant touch with authorities from the Central & UP Governments.

— PMO India (@PMOIndia) August 12, 2017
MoS Health Anupriya Patel & the Union Health Secretary will take stock of the situation from Gorakhpur. — PMO India (@PMOIndia) August 12, 2017
3:51 pm IST:
High level probe to take place, headed by Principal Secy. Will wait for report, action will be taken. Till then suspending principal: Tandon pic.twitter.com/YzXSygAFz2

— ANI UP (@ANINewsUP) August 12, 2017
3:49 pm IST: "We are suspending BRD medical college principal with immediate effect for this negligent behaviour," Minister for Medical Education Ashutosh Tandon
3:45 pm IST: "Children have not died due to disruption of gas supply," says UP health Minister Siddharth Nath Singh claiming that when seven children died within 24 hours, there was no shortage of oxygen cylinders.
3:36 pm IST: "Chief Minister Yogi Adityanathji had visited the BRD Medical College on 9 August and had held consultations with various officials. But no one had raised the issue of the shortage of oxygen in the hospital... This incident has been very shocking and it should shock us all," Siddharth Nath Singh said.
3:35 pm IST: "We had a three-hour long meeting... We have taken necessary steps to probe the matter... This government is a very sensitive government. This government is sensitive to people's problem... This is a very serious and sensitive matter," says Singh.
3:32 pm IST: Health Minister Siddharth Nath Singh addresses press conference.
3:30 pm IST: Sixty-three children died at the BRD Hospital in Gorakhpur in the last five days. Yet, Prime Minister Narendra Modi has not said anything. There has been no word from the country's leader and the common man does not seem to be happy about it.
Twitterati have lashed out questioning PM Modi's silence in the wake of such a tragedy. Leaders from the Opposition parties have also raised questions over the PM's silence.
#YogiMustResign #ModiMustSpeak 60+ dead & for a guy who can't shut his mouth, Modi has been very silent. Remember #Demonetisation deaths?

— N (@mazhai_magal) August 12, 2017
#ModiMustSpeak Speak up PM Sir about killing of 63 children. We don't want any committees we want action in a day. who will bring those kids — TheTweetOfGod (@callerman) August 12, 2017
#ModiMustSpeak why our beloved PM is silent? why don't he tell d nation his Man ki baat ? or 56 inch chest lost his voice due to lack of O2

— parth pant (@drparthpant) August 12, 2017
AS A YOUNG MOTHER OF ONE,I ASK #ModiMustSpeak ON #GorakhpurTragedy — Aleeda बशाश حشاش (@srozadi) August 12, 2017
If Gorakhpur was in France, Israel or America @narendramodi would have been the first amongst the world leader to tweet. #ModiMustSpeak Now!

— Sadhavi Khosla (@sadhavi) August 12, 2017
Sir u were concerned about Nawaz Sharif's mom. Please sir #ModiMustSpeak — Tehseen Poonawalla (@tehseenp) August 12, 2017
Where are you? @narendramodi ji? Today, is the time to do your #MannKiBaat on #GorakhpurChildrenTragedy #ModiMustSpeak

— Sadhavi Khosla (@sadhavi) August 12, 2017
3 pm IST: "PM Modi is extremely saddened. Will be reaching Gorakhpur shortly so, I can get first hand information," Anupriya Patel, MoS Health & Family Welfare, was quoted by ANI as saying.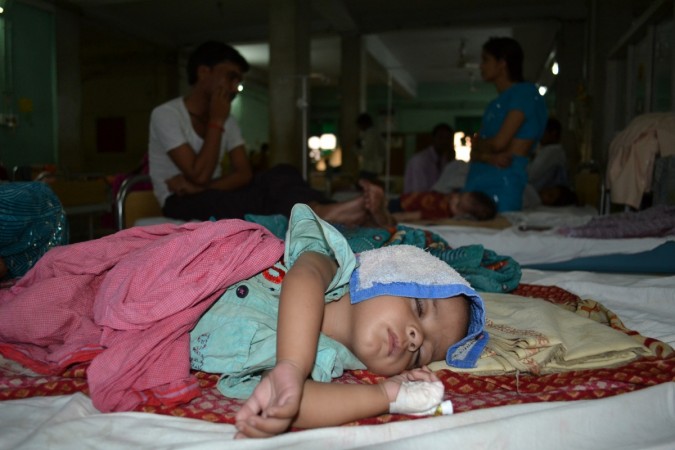 2:50 pm IST: According to the NDTV report, all medical personnel at the hospital have not been paid their wages for over two years now. Medical personnel include doctors, nurses and ward bpys working in the physical medicine and rehabilitation department set up to treat post-encephalitis disabilities.
The staff looking after patients in the encephalitis wards were paid over the last couple of days after a delay of five months. Salaries to those monitoring the neo-natal department have not been paid since six months.
2:30 pm IST: BRD hospital employees, who handle the storage plant at the hospital from where oxygen is piped to different wards, wrote a letter to the Chief Medical Officer for the second time on Thursday morning informing him that the stock of liquid oxygen was dangerously low and would not last the night, NDTV reported.
The operators pleaded with the authorities to act immediately and save the lives of patients admitted in the hospital.
Most deaths were reported from the Neonatal and Encephalitis wards of the hospital. According to NDTV, not just children but 18 adults also lost their lives during the same period in the same wards.
2 pm IST: BSP chief Mayawati lashes out at Yogi Adityanath's government. "BJP never accepts its mistakes... How can the government be so careless about the oxygen supply in the hospitals... Why is chief minister Yogi Adityanath silent?"
She added: "I have made a three-member team who will take stock of situation at the hospital and update me on current situation."
1:55 pm IST: BJP MP Sakshi Maharaj lashes out at Yogi Adityanth government saying: "One or two deaths in different, but 30 deaths is genocide."
1:45 pm IST: Official data states that more than 3,000 children have died at the BRD Medical College since 2012, the Hindustan Times reported. Gorakhpur has been under the grip of encephalitis since over 30 years. These 3,000 deaths are among the 50,000 children who have died in the constituency in three decades.
1:30 pm IST: UP ministers Ashutosh Tandon and Siddharth Nath Singh are holding a meeting with BRD Medical College authorities, reports ANI. Union Health Minister JP Nadda has sought a detailed report from Singh and Tandon on the incident.
1:25 pm IST: Raids are being carried out at the offices of Pushpa Oxygen Supplier, that supplies oxygen to BRD Hospital in Gorakhpur, NDTV reported.
1:15 pm IST: Congress spokesperson Manish Tiwari has demanded strict action against those responsible for the deaths at the BRD Medical College hospital in Gorakhpur.
"There are clearly two dimensions to it, that of criminal culpability of all those who are responsible — the hospital administration, the oxygen supplier and the district administration which is supposed to exercise superintendence over the hospital, and the other is the moral responsibility of the chief minister," Tiwari was quoted by PTI as saying.
"While all those responsible must be charged with criminal culpability accounting to murder,...there is a moral dimension which the chief minister of Uttar Pradesh and his health minister must take responsibility for and resign immediately," Tiwari said.
12:40 pm IST: "Government is trying to run away from responsibilities, that's why (it is) saying that Opposition is politicising the situation... The government is not doing its job. They are busy hounding Samajwadi Party workers," former UP CM Akhilesh Yadav says at a press conference.
He added: "Delegations from Samajwadi Party will pay a visit to the Gorakhpur hospital... This is a sad incident... UP CM should intervene into the matter and do the needful."
12:05 pm IST: "Deaths did not happen due to oxygen supply cut-off. No one can stop supply like this. We know consequences. (We) repeatedly communicated about pending payments to concerned authorities but never got a response," Meenu Walia, HR Pushpa Gas Pvt Ltd, was quoted by ANI as saying.
A FIR has been filed against Pushpa Oxygen Supplier.
11:15 am IST: "Heart-wrenching incident. Saddened by children's death. This happened due to state government's carelessness. Both the health minister and the minister of technical and medical education must resign. UP CM can't step back from duty. Must apologize to the state," Congress' Ghulam Nabi Azad told reporters outside BRD Hospital.
11 am IST: "30 kids died in hospital without oxygen. This is not a tragedy. It's a massacre. Is this what 70 years of freedom means for our children? Appeal to CM @myogiadityanath Ji. Your decisive intervention can correct decades of the corrupt medical system of UP to prevent such incidents," Nobel Peace Laureate Kailash Satyarthi on Twitter.
10:45 am IST:
UP: Congress delegation at BRD Medical College in #Gorakhpur; what happened was due to lapse on the government's part says Cong's RPN Singh pic.twitter.com/NC3ltaIG31

— ANI UP (@ANINewsUP) August 12, 2017
10:40 am IST: "Parents of children who died must get compensation, free medicine must be provided to poor families across UP," Ram Gopal Yadav from the Samajwadi Party told ANI.
10:35 am IST: "The Opposition is giving statements in haste. The UP government is committed to the service of people. Strict action to be taken," UP Deputy CM Keshav Prasad Maurya told reporters.
10:30 am IST:
UP: Congress delegation, including GN Azad & Raj Babbar, reaches BRD Medical College in #Gorakhpur pic.twitter.com/J5wa1Ffdoc

— ANI UP (@ANINewsUP) August 12, 2017
10:05 am IST: The office of the UP CM tweets directing the health minister and concerned authorities to conduct a proper investigation and take strict action against those responsible.
#UPCM श्री #YogiAdityanath ने मौके की गहन जांच कर सख्त कार्रवाई सुनिश्चित करने के निर्देश दिए। — CM Office, GoUP (@CMOfficeUP) August 12, 2017
9:45 am IST: Death toll rises to 63 after an 11-year-old suffering from encephalitis passes away.
9:36 am IST:
Dept handling oxygen supply wrote to authorities on 3&10 Aug to infrm of shortge as Pushpa Sales stoppd supply ovr pending paymnt #Gorakhpur pic.twitter.com/FDKl8hlx1H

— ANI UP (@ANINewsUP) August 12, 2017
9:18 am IST: "Proper investigation will be done and quick action will be taken. It's a serious issue. Opposition parties should not politicize deaths," Health Minister Singh told ANI. 9:05 am IST:
#Gorakhpur: Families of children at BRD Medical College allege discrepancy in treatment, say they're buying food & medicine from outside pic.twitter.com/KUYf8coOe5 — ANI UP (@ANINewsUP) August 12, 2017
9 am IST:
UP: Oxygen cylinders being brought to #Gorakhpur's BRD Medical College pic.twitter.com/4NRHHm2HSc

— ANI UP (@ANINewsUP) August 12, 2017
UP: Police force deployed to tighten the security at #Gorakhpur's BRD Medical College pic.twitter.com/KFlaAcoYmI — ANI UP (@ANINewsUP) August 12, 2017