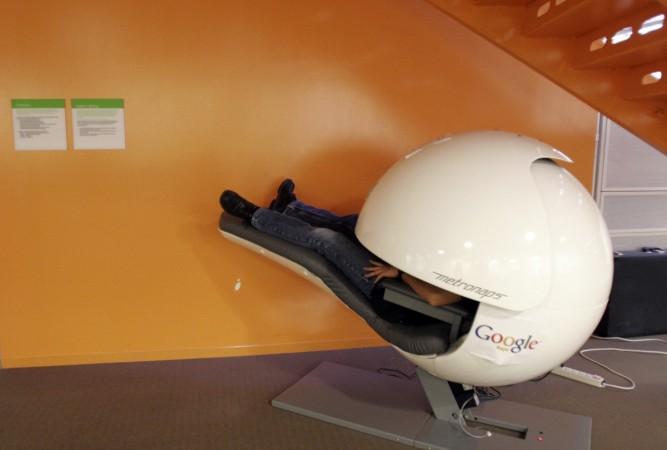 When it comes to employee satisfaction, Google has certainly been maintaining its top spot, especially with Fortune naming it as the No.1 company to work for in 2014, for a fifth consecutive time. The employees at the Google headquarters in Silicon Valley, not only enjoy extensive gym facilities, nap chairs, free laundromat, hairdressers and the services of a campus doctor, but also endless amounts of free food.
In fact, the amazing perks offered by Google go way beyond the office space; three winners of Google's annual talent show opened for Bruno Mars at his Las Vegas show in April at the Global Sales Conference, Forune reported.
Reddit user IAmAGoogler had described working in Google as Fun: "It's kind of like a playground for grownups. We have gym facilities, coffee bars, cafes, scooters to ride around on, giant lava lamps, a music room with all kinds of instruments, video game rooms, arcade machines."
For some employees, these perks are just so good, that they have found ways to hack their way out of rent and make the 'Googleplex' their permanent address.
Google's Mountain View headquarters has been witness to not only professional, but personal lifestyle of many of its 50,000 employees. In a unique Quora thread titled "Which Googler holds the record for living at Google HQ?", many former and current Google employees talk about their own experiences and their colleagues' experiences of staying in Googleplex.
Shana Sweeney, who works on HR & benefits stuff relayed that although technically one was not supposed to live at the office, many Google employees got around that by living in their cars in the parking lot of the office or the Shoreline parking lot.
She recalls a camper parked in the parking lot near "Critenden" who used to sleep in the camper and do everything else in the office, for around two to three years. He "showered at the gym. Did his laundry on campus. Ate every meal on campus he could. After the 2-3 years, he had saved up enough money to buy a house. It was simply brilliant!"
One Ben Disco, a Google [x] UI programmer, claims that he is pretty sure he holds the record for living in Googleplex, having lived there fom October 2011 to November 2012. His reason for staying on campus was that he has a house payment for his farm in Hawaii and an alimony to pay, that left him with no money for the heavy rental prices in South Bay.
Matthew J Weaver, who left Google in February 2014 as a "Staff Site Ecologist" claims to have lived in an RV for 54 weeks from July 2005 to August 2006 on a dare. He even has an astroturf lawn and white picket fence for a while and asserts the lifestyle proved beneficial for his career.
An anonymous commenter who claims to still be working and living in the Google Headquarter have been doing so since December 2011.
While, many like to think of their living situation as amazing, some say its just "sad and resourceful."
#mce_temp_url#"These perks are often an incentive to keep you at work for 60 to 80 hour work weeks. I don't trust any companies with perks like this. If you are single and young sure but get older and have a family this is not the place for you. I guess it's a trade off...," posted Reddit user ishywho.
"There were stories about folks at Microsoft doing this too back in the day.. goes away when the hip young workforce grows up and develops a work/life balance.. usually due to a spouse and kids." observed fece.