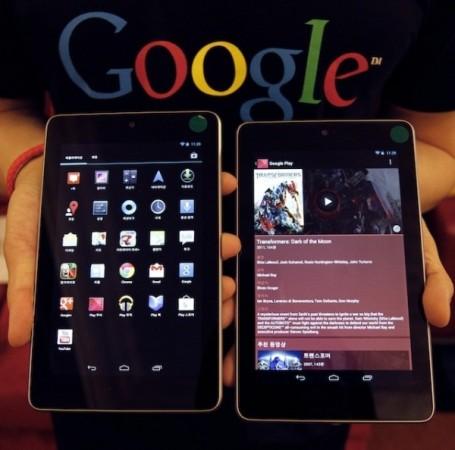 Google and LG, co-developers of Nexus 4, have reportedly made minor changes to the smartphone's design to improve some design flaws to its panel.
According to the report from Android Central, Nexus 4 has undergone minor tweaks to its exterior case with an addition of a few pointy bumps near the rear end so that the phone provides grip on a glassy or any other slippery surface.
The new design would also lift the device from a platform to widen the sound range coming from the speakers. Since most phone speakers are housed on the back, users complain that sometimes the sound gets mellowed down when placed on flat surface while playing music. Now, the new Nexus seems to have solved this minor problem.
Another noticeable change in the new Nexus 4 is that the lens position near the rear-side camera is closer to the edge. The reason behind this change is unclear but it is speculated that it might help the camera absorb more light.
The new design was first noticed in Germany, and it is expected to roll out in other markets as well.
Since Nexus 4 is still yet to launch in India, consumers can hope that the device will be incorporated with the new design.
According to recent reports, Indian online retailer Saholic.com announced that Nexus 4 stocks are expected to be available by 20 April.
Key Specs of Nexus 4 Include:
Model

Nexus 4

Display

4.7-inch WXGA display with

IPS technology,1280x768p resolutions

OS

Android v4.2 OS (Jelly Bean)

Processor

Qualcomm Snapdragon S4 Pro CPU

Internal memory

2GB RAM

Storage capacity

Available in 8GB & 16 GB

Camera

Rear: 8.0-megapixel camera

Front:1.3-megapixel camera

Network

3G (GSM-850,900,1800,1900 MHz)

Additional specs

Wi-Fi 802.11 a/b/g/n, Bluetooth, NFC (Android Beam) SlimPort HDMI

Dimensions

133.9x68.7x9.1 mm

Weight

139 g

Price

expected to be around ₹30,000 (16GB)