In the past couple of months, we are seeing a surge in fake apps on Google Play duping Android phone users and now, 85 more have detected affecting more than 9 million people.
Trend Micro's security research team has found 85 apps disguised as games, universal TV remote app and several more in the form of utility applications on Google Play Store. Once installed, they are known to display full-page ads with every button press and in some instances disappear from the home screen and run in the background. These apps though flashy to look offers no convenience to the users and affect the performance of the device.
That's not all; devious app developers also create fake impressions about the installation on the phones and fleece ad agencies of their money. Some are even known masquerade apps installed on Android mobiles as iPhones to charge premium fees.
"We tested each of the fake apps related to the adware family and discovered that though they come from different makers and have different APK cert public keys, they exhibit similar behaviours and share the same code," Trend Micro said on the blog.
One particular app—'Easy Universal TV Remote' found on Play Store, claimed to make the Android phone as remote control the smart TV does nothing but plaster the phone with full page ads. Unfortunately, more than 5 million people fell for it and you can see the comments section about the users complaining about the fake app. There are several others and Trend Micro was able to detect 85 and informed Google.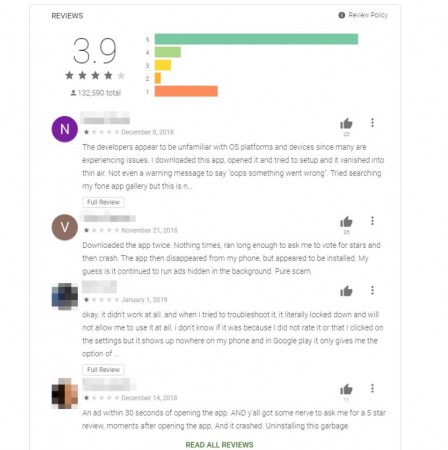 Taking cognisance of the issue, Google has removed all the nefarious apps from the Play store. If you have already downloaded any such apps on your Android phones, please remove them immediately. You can check the names of malicious apps on Trend Micro security archives (here).
How to protect your smartphones from malware:
Always keep your smartphone updated to the latest firmware. Most companies in collaboration with Google send software updates — especially security patches on a priority basis and always make sure to update them immediately
Make sure to use premium Antivirus software, which also provides malware protection and internet security
Always switch on Google Play Protect on your Android phone. Go to Google Play >> Select Play Protect >> enable both – option 1: Scan device for security threat and option 2: Improve harmful app detection
Never open emails sent from unknown senders
Never install apps from unknown websites
Never install apps from unfamiliar publishers even on Google Play store
Never ever side-load apps from websites other than Google Play store on an Android phone.
Always read user reviews before installing the apps from Google Play store
Stay tuned. Follow us @IBTimesIN_Tech on Twitter and on Google News for the latest updates on cybersecurity.