Earlier in the week, Google opened its beta-page revealing that it is building a dedicated video conferencing app with Hangouts UI for mobile and desktops. Now, the search engine has officially announced that it was actually a Hangouts app for business enterprises.
Google has also split the Hangouts messaging into two, -- 'Meet' for video conferencing and 'Chat' for text messaging.
Also read: Google Photos app gets new update with much needed Auto White Balance feature; here's how to get started
Having launched Artificial Intelligence (AI)-based chatting apps – Allo (text) and Duo (videos) -- for the public, Google's Hangouts, henceforth, will be offered as dedicated communication application as a part of the G Suite service pack offered to companies.
"Our customers have told us it should be effortless for them to connect over video and that chat should be more collaborative, so we're evolving Hangouts to focus on two experiences that help bring teams together and keep work moving forward: Hangouts Meet and Hangouts Chat," Scott Johnston, director, Product Management, Hangouts, Google, said in a statement.
Salient feature of Hangouts Meet:
As said before, Hangouts Meet is a video conferencing app. It can be used for group video-conferencing with up to 30-members. Registered members just have to dial the unique meeting code to activate the video chat. Meet is also integrated with Google Calendars and Gmail.
Salient features of Hangouts Chat:
The text-based Hangouts Chat app offers numerous value-added features including connection to cross-functional teams together, so that they can discus tasks that need to get done and share the work seamlessly.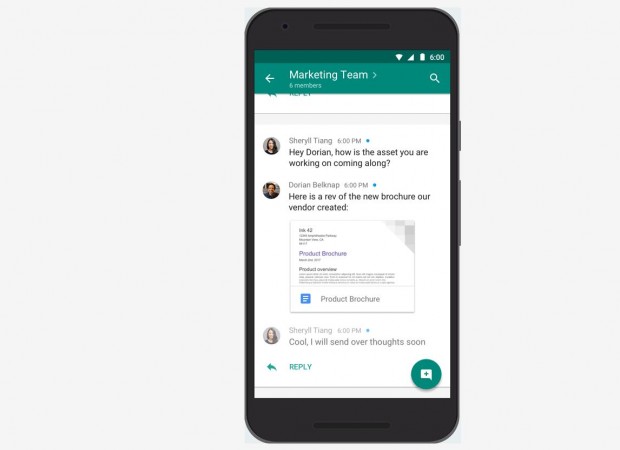 It also boasts virtual rooms to create a dedicated space for each project, with threaded conversations so that the team's progress is easy to follow. Google Chat is also deeply integrated with G Suite so that users can share and view contents from Drive and Docs, or photos and videos, directly in conversations.
It also offers powerful, filterable search that makes it easy for users to find all the content dating back to the start of the project.
Like Google Allo and Duo, Hangouts Meet and Chat also come with AI-based @meet, an intelligent bot built on the Hangouts platform that uses natural language processing and machine learning to automatically schedule meetings for office's individual teams with Hangouts Meet and Google Calendar.
Hangouts Meet goes live today and will gradually roll out to all G Suite customers over the next few weeks. G Suite customers can apply to try Hangouts Chat through the Early Adopter Program.
Watch this space for latest news on Google.