Here is good news for LG Nexus 5 users in India. Google has released Android 5.1 Lollipop OTA (Over-The-Air) update to its device, the Nexus 5 in the country. The upgraded version of Android 5.0.1 Lollipop roll out to the device was expected as it was released to some countries a few days ago and seeding was expected to come in phase.
Measuring 220.7 MB, Android 5.1 Lollipop is now available to the Nexus 5 for download and Google said the upgraded version "improves performance and stability and fixes bugs." The new software also comes with some changes in the interface with size of apps being shrunk, making them look more sharp.
It is also reported that the firmware comes with features like improvement of HD voice-calling, and fixes bugs like Wi-Fi connectivity issue, duplicate SMS sending glitch and enhancements to sending MMS messages.
The Nexus 5 was one of the first devices to receive Google's much-anticipated operating system Android 5.0 Lollipop and it was updated with Android 5.0.1 Lollipop a couple of months ago.
How to Install Android 5.1 Lollipop OTA Update on LG Nexus 5:
Google Nexus 5 users should ideally get Android 5.1 Lollipop update notification on their phone screen. Tap the download option to get the firmware. Once download is completed, which may take a few minutes, select "Install Now." The device will restart automatically once installation is complete and the 5.1 Lollipop will start running in your device.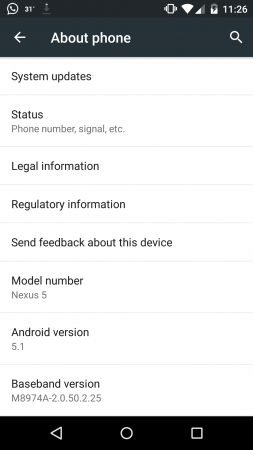 Nexus 5 users, who don't get Android 5.1 Lollipop update notification, can manually check the availability of the new software by going to – 'Settings' >> 'About phone' >> 'System update' >> 'Check For Update.