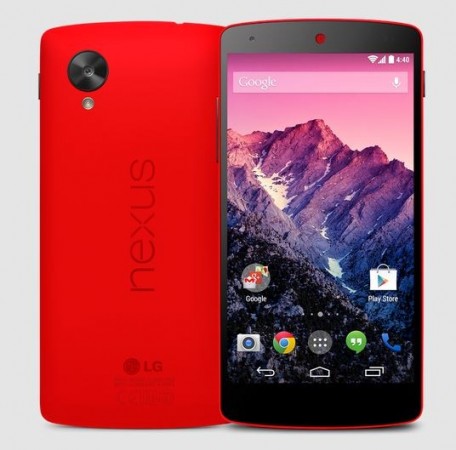 As each day passes, we are getting closer to the alleged Google Nexus 6 aka X launch, set for late October. With numerous reports flooding the web, Nexus fans will be anxious to know what features are packed in the upcoming device.
To help get a better perspective on the rumoured device, we have leafed through numerous reports and pieced together a comprehensive report on the expected features, price and release date details of the 2014 Google smartphone.
Google Nexus 6 aka Nexus X Display:
Last year, Nexus 5 came with a 4.95-inch display boasting full HD (1920x1080p) resolution, and now its successor is said to go a notch up.
The recently leaked AnTuTu benchmark results (courtesy, G4Games) have shown Nexus 6 sporting a 5.2-inch QHD aka 2K display resolution (2560x1440p), with a staggering pixel density of 500 plus ppi (Pixels Per Inch).
Google Nexus 6 aka Nexus X Processor, RAM & Storage Details:
Recently leaked benchmarking results indicate that Nexus 6's belly will pack a Qualcomm's beast- Snapdragon 805 (APQ8084), a quad-core processor which can clock a top CPU speed close to 3.0GHz. It will be backed by Adreno 420 graphics engine and sumptuous 3GB RAM.
Nexus 6 is expected to be made available in two storage variants, most probably - 32GB and 64GB models.
Google Nexus 6 aka Nexus X Camera Specifications:
According to leaked benchmark (AnTuTu) results, Nexus 6 reportedly houses a 13.0-megapixel main camera and a 2.1-megapixel snapper on the front.
The performance testing website does not reveal anything beyond the physical specifications. If the company has learned anything from multiple of reviews of 2013 model Nexus 5, it will certainly throw in some cool value-added features like enhanced OIS (Optical Image Stabilization) to improve photography experience.
Many tech pundits and fans had found the 'Camera department' as the one of the weak-link in the Nexus 5, which excelled in almost all other aspects.
Google Nexus 6 aka Nexus X Mobile Operating System:
Like all previous Nexus smartphones, the upcoming Google affiliated phone is all but certain to ship with the latest Android software v4.5/v5.0, this time new OS will have nomenclature beginning with 'L'.
If history is taken as any indication, the company is expected to christen the new OS with sweet dessert monikers. Top names twirling in the internet include- the Lollipop, Lemon Meringue, Lemon Tart, Liquorice and Laddu, a Indian sweet.
After the announcement of KitKat in late October last year, Indian Android enthusiasts had kick started a campaign to name the 2014 Android OS version as 'Laddu'.
They have also opened a dedicated webpage to persuade the OS' chief Sundar Pichai to look towards the motherland to name the next Android, reported Firstpost. [To view the Laddu campaign page, click here]
Similarly, another group of IIT (Indian Institute of Technolgy, Kharagpur) said to be Sundar Pichai's (senior vice-president, Google) alma maters are trying to convince him to name the new Android OS after 'Lassi', sweet curd milk.
As of now, nothing is set in stone, nobody is sure whether Google's Android team would name the new OS version Laddu/Lassi or anything else, but for now the new OS will continue to be called as Android L until the official unveiling in October.
Check out the official video of Google detailing the unification of Android's new OS in multiple devices:
Google Nexus 6 aka Nexus X launch and release Date Details:
If the sources of technology blog, Inferse is to be believed Google Nexus 6 would make its debut on Halloween (31 October), a popular western festival.
Even Sundar Pichai, senior vice-president and head of Android team, Google had confirmed that Nexus smartphone would be launched in second half of 2014. Add to that, its predecessor Nexus 5 too got launched on Halloween, 31 October last year.
As for as release date is concerned, the search engine giant is most likely to release the Nexus 6 on launch day itself via official online site- Google Play store and later in other e-shops, just like Nexus 5 last year.
Google Nexus 6 aka Nexus X Price Details:
Earlier this week, popular French e-commerce site Fnac inadvertently listed the 32GB & 64GB version of the yet-to-be unveiled Motorola X T1100 aka Nexus X, revealing the price of the device.
Once the word got out in the media, the webpage was pulled down but by then some technology blogs had taken a screenshot of the website.
According to the listing (courtesy, TK Tech News), Nexus X 64GB and 32GB smartphone variants were reportedly priced - €499.99 (around $700/₹40,000) and €419.99 (around $554/₹33,526) respectively.
Expected specifications of Google Nexus 6 aka Nexus X
| | |
| --- | --- |
| Model | Google Nexus 6 aka Nexus X (Codenamed- Motorola Shamu) |
| Display | 5.2-inch QHD (2560x1440p) screen |
| OS | Android L |
| Processor | Qualcomm Snapdragon 805 (APQ8084) with top CPU speed of 3.0GHz |
| GPU | Adreno 420 |
| RAM | 3GB |
| Camera | Main: 13.0-megapixel cameraFront: 2.1-megapixel camera |
| Price | 64GB: €499.99 (around $700/₹40,000)32GB: €419.99 (around $554/₹33,526) |