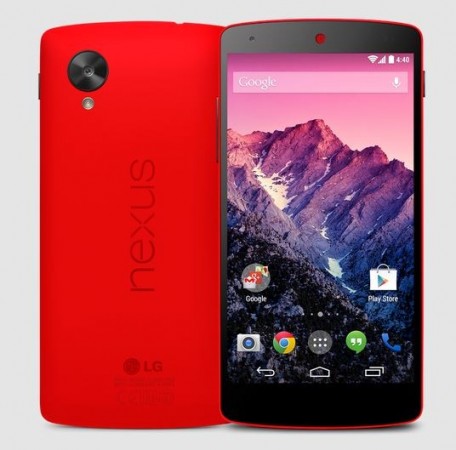 For the past few months there were speculations that Nexus 6 might be ditched by the search engine giant, Google, to focus on a new project 'Android Silver'.
Now new reports have surfaced online that the Google flagship smartphone project is still alive and might finally see the light of the day in a few weeks time.
Prominent media house, The Information, citing credible sources has reported that Google's ambitious Android Silver has been kept on the back burner, due to the sudden exit of Nikesh Arora in July, who until then was in charge of the above project as well as the head of sales and who oversaw the company's partnership with handset makers and wireless carriers.
With his exit, the company has had trouble convincing the stake owners –OEM (Original Equipment Manufacturers), network carriers and retailer sellers over this ambitious project; hence the Android Silver has been put on hold. There is no word whether this pause in the project is temporary or permanent.
[Note: For the uninitiated, project Android Silver is a part of Google's rebranding program for premium Android smartphones, so that the devices match the high-end Apple iPhone series]
And with the release of Android One series budget smartphones in India this week (full report, HERE), Google seems to have cleared the decks for the launch of high-end stock Android phone Nexus 6 aka Nexus X.
More details (courtesy, PhoneArena) of Nexus 6 aka Nexus X (codenamed Motorola Shamu) have surfaced online providing further impetus to the existence of the device. A couple of Motorola Shamu prototype smartphone models have landed in Bengaluru (India) from the USA for a demo.
[Note: Shamu is the codename of Nexus 6, internally known inside Motorola's R&D facility]
To get a better perspective on the rumoured Nexus 6, we have sifted through the numerous reports and compiled select features, which are more likely to make the cut in the Google's 2014 marquee Android smartphone.
Nexus 6 aka Nexus X Display Details:
In 2013, Nexus 5 was launched with 4.95-inch full HD (1920x1080p) display with a pixel density of 445 ppi (pixels per inch).
This year Google-Motorola Nexus 6 is slated to boast a bigger and flashier 5.2-inch QHD (aka 2K) 2560x1440p resolution display.
Nexus 6 aka Nexus X Processor, RAM, and Storage Details:
Motorola in its bid to outclass rivals, might incorporate 805 series processor, which can clock maximum CPU speed close to 2.7GHz.
According to a leaked AnTuTu benchmarking results (courtesy, G4Games), the Motorola phone will be aptly backed by sumptuous 3GB RAM, enough to run any high-intensity 3D games with no lag.
Top tier-one Android device brands Samsung, HTC and Sony have launched their respective flagship smartphones –Galaxy S5, One M8 and Xperia Z3 with Snapdragon 801 –series CPU.
Nexus 6 is expected to be made available in two storage variants, most probably - 32GB and 64GB models. There is no word on whether the phone would house a micro-SD card slot or not, but it would be better if Nexus 6 does come with a memory expansion option.
Many are hoping the company to incorporate this feature, just like it introduced the option for memory expansion in the recently released Moto G (Gen 2.).
Nexus 6 aka Nexus X Camera Specification details:
A recently leaked AnTuTu benchmarking performance results show that Nexus 6 will house a 13.0-megapixel main camera and a 2.1-megapixel snapper on the front.
There are no other details beyond these physical specifications, but loyal Nexus fans are hoping that Google-Motorola incorporate some value-added features like enlarged lens so that the camera will be able to capture good quality pictures in low- light conditions and other specifications to enrich photography experience, which were sorely missed in its predecessor.
Its predecessor, Nexus 5, despite packing high-end internal hardware got panned for inferior camera. Many tech pundits and critics compared this short-coming as the proverbial Achilles heels of the phone.
Nexus 6 aka Nexus X Mobile Operating System Details:
As everybody knows, Google has already released the preview edition of the Android L OS during the I/O 2014 in June to software programmers to find bugs and develop apps for the new OS.
The final bug-free Android L version is expected to first ship with the Nexus 6 smartphone.
Google is pursuing to improve the performance in the new OS. In that order, the new Android L will have a paradigm shift in its internal coding, beginning with the replacement of Dalvik with ART as its default runtime. With this change, the new Android OS is said to become twice as efficient compared to previous versions and create a consistent experience across mobile and the web with material design, the new Google-wide standard.
Check-out the official video of Android L detailing the features:
Nexus 6 aka Nexus X Launch Date Details:
If the sources of technology blog, Inferse are to be believed, Google is expected to pull the wraps-off the Nexus 6 on Halloween (31 October), a popular western festival.
Even, its predecessor's Nexus 5 and Nexus 4 got unveiled during this time around in past years.
Nexus 6 aka Nexus X Release Date Details:
If history is to be taken as any guide, Google has always released the devices on its launch day in select markets via Google Play stores or other online stores.
Even the recently launched Android One devices (from Micromax, Karbonn Mobiles and Spice) too went on sale within few hours after the launch.
If all things fall in place, one might expect Google Nexus 6 to be released on 31 October.
Nexus 6 aka Nexus X Price Details:
Last month, popular French e-commerce site, Fnac accidently (or intentionally ?) listed the 32GB & 64GB version of the yet-to-be released Motorola X T1100 aka Nexus 6, revealing the price of the device.
Once the report went wild in the media, the webpage pulled down the list immediately, but by then some people had taken a screenshot of the webpage.
As per the listing (courtesy, TK Tech News), Nexus X 64GB and 32GB smartphone variants are expected to cost - €499.99 (around $700/₹40,000) and €419.99 (around $554/₹33,526) respectively.
Rumoured Specifications of Google Nexus 6 aka Nexus X
| | |
| --- | --- |
| Model | Google Nexus 6 aka Nexus X (Codenamed- Motorola Shamu) |
| Display | 5.2-inch QHD (2560x1440p) screen with Pixel density of more than 550 ppi (pixels per inch) |
| OS | Android L |
| Processor | Qualcomm Snapdragon 805 (APQ8084) with top CPU speed of 2.7GHz |
| GPU | Adreno 420 |
| RAM | 3GB |
| Camera | Main: 13.0-megapixel cameraFront: 2.1-megapixel camera |
| Add-on | 4G-LTE, NFC, Bluetooth v4.1, Wi-Fi |
| Price | 64GB: €499.99 (around $700/₹40,000)32GB: €419.99 (around $554/₹33,526) |