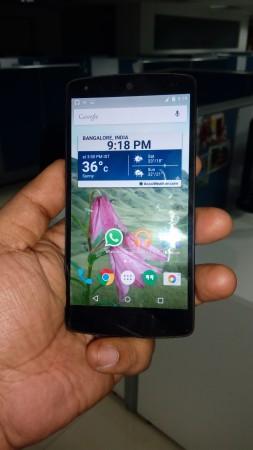 With the release date of Google Nexus 5 (2015) aka Nexus 5 2nd Generation drawing close, one question that will come to the minds of smartphone market followers is whether the new device will affect sales of Nexus 6. Well, will the users of the current flagship device buy the upcoming smaller smartphone? Very unlikely, but users of the Nexus 5 (2013) might opt for an upgrade.
Google Nexus 5 (2015) is expected to arrive in a little more than three months from now. It is expected to be released in October or November by which time Nexus 6 will complete a year cycle in the market. Codenamed Bullhead, the smartphone will be produced by LG, the makers of Nexus 4 and 5, according to Android Police.
Though Motorola Nexus 6 is not lagging behind other devices in the market in terms of features, several reports have claimed that its big screen (5.96-inch) is the reason for its poor sales. Perhaps this is why Google has decided to come up with Nexus 5 (2015) with a smaller screen.
Most people are sceptic to change. Poor response to Nexus 6 (if what reports are to be believed) could be because of sudden increase from 5-inch to 6-inch screen, but big could be cool once you are used to it. In fact, those who have used big screen handset are very unlikely to go for a phone with smaller screen. Samsung Note devices and other phablets might not have done well in the market if not for people's demand for large display.
Google's upcoming smartphone dubbed as Nexus 5 (2015) is expected to sport a 5.2-inch display, which is smaller than Nexus 6. These devices are unlikely to eat into each other's revenue, as they belong to different categories as far as screen size is concerned. According to a report by MobiPicker, the upcoming smartphone is expected to be powered by a Qualcomm Snapdragon 808 processor, and a 2,700mAh battery, but nothing is confirmed as of now.
On the other hand, Nexus 6 sports a 5.96-inch AMOLED capacitive touchscreen with 1,440x2,560 pixels (493 ppi pixel density), powered by a Qualcomm Snapdragon 805 clocking at 2.7GHz, runs on Android 5.0 Lollipop, upgradable to 5.1 Lollipop, and comes packed with 32/64 GB internal memory and 3 GB RAM. It has a 13 mp main camera and 2mp front snapper and a non-removable Li-Po 3,220mAh battery.
Nexus 6 was priced at $649 (₹44,000) for the 32GB version and $699 (₹49,000) for the 64GB variant when it was launched, for which it was criticised, as the 16GB variant of Nexus 5 (2013) was priced just $350 (₹28,999), and the 32GB model - $400 (₹32,999). Play Store, Best Buy and Amazon are now offering the 32GB version of the device for $499 ₹37,000) and $549 ₹42,000) for the 64GB version, and it wouldn't come as a surprise if one sees further drop in the months before the release of Nexus 5 (2015).
Nothing much is known on the pricing of Nexus 5 (2015) except GeekSnack's report that it might come with a price tag under $500.