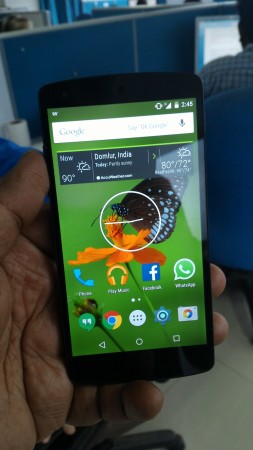 Hype around the Google Nexus 5 (2015) aka Nexus 5 2nd Generation is gaining momentum as its release date draws to a close.
The upcoming smartphone is expected to come with several upgrades over its predecessor but one feature that fans will like to see is Project Fi, an exclusive feature seen in the Motorola Nexus 6.
The Google Nexus 5 (2015) is expected to be launched in October and November like its predecessors but it could come early if one were to go by Geek Snack's claim that the new device will be launched along with Android M in August.
The search giant's upcoming smartphone is expected to have the latest technology but one thing question that will hover in the minds of gadget lovers is whether the Nexus 5 (2015) will feature Project Fi, which is exclusive to the Nexus 6.
What is Project Fi?
It is Google's programme to provide hassle-free service to smartphones (cellular and Wifi-based) and was exclusively introduced to its current flagship device, the Nexus 6. The search giant's unique SIM card helps the device access multiple networks.
"Project Fi is a program to deliver a fast, easy wireless experience in close partnership with leading carriers, hardware makers, and our users," according to Google. It "uses new technology to give you fast speed in more places and better connections to Wi-Fi."
Mobile phones traditionally connect to one network's towers but Project Fi technology allows access to two 4G LTE networks, which means the phone can connect to more towers.
"Project Fi automatically connects you to more than a million free, open Wi-Fi hotspots we've verified as fast and reliable. This technology helps keep your speed high and your data bill low—whenever you're on Wi-Fi, you're not charged for data usage," according to the search giant.
Google Nexus 5 (2015) Specifications
Expected to be made by LG under the codename "LG Bullhead", the Nexus 5 (2015) will reportedly featuring a 5.2-inch screen with 1440 x 2560 pixels, Qualcomm Snapdragon 810 processor, Android M, 3 GB RAM, 13 MP main camera, 2 MP front snapper and a 2700 mAh battery.