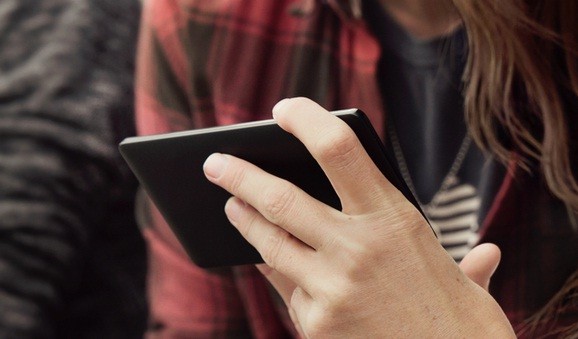 An image of what appears to be Google Nexus 5 (2015) aka Nexus 5 2nd Generation has appeared online, sparking off curiosity among Nexus fans.
The smartphone has been spotted on Android official page (via Android Pit). It has the potential to cause much curiosity among Nexus fans for the simple reason that Google had earlier did the unexpected in the past. It revealed the first Nexus 5 in a promotional video prior to its launch.
Interestingly, the smartphone spotted on Google's official website is not any of the company's devices that have already hit the stores. Nexus logo is not seen in the back of the device and resembles the first Nexus 5, but its width tells a different story. Smartphones from Nexus line usually come with a narrower width than the one spotted in the picture.
It was earlier reported that Google Nexus 5 (2015) could be launched in October or November like its predecessors, but latest reports have claimed that it could come earlier than expected. According to Geek Snack, Google will release both its Nexus device and Android M together. So it wouldn't come as a surprise, if the device comes earlier than expected as the new software could come by the end of third quarter.
Google is expected to launch two Nexus devices, one to be made by LG under the codename "LG Bullhead" and believed to be the Nexus 5 (2015), and the other device to be made by Huawei with the codename "Huawei Angler" and believed to be Nexus 6 successor, reported Android Police.
According to reports, Google Nexus 5 (2015) will come with features like a 5.2-inch screen with 1,440x2,560 pixels, Qualcomm Snapdragon 810 processor, Android M, 3GB RAM, 13mp main camera and 2mp front snapper, and a 2,700mAh battery.
However, MobiPicker claimed that it would be powered by a Qualcomm Snapdragon 808 processor. The same website claimed that the Nexus 6 successor might sport a 5.7-inch OLED screen with 1,440x2,560 pixels, powered by Snapdragon 810 processor and house a 3,500mAh battery.
Nexus 5 (2015) may come with a price tag under $500, according to a report by Geek Snack, but it's not confirmed and can vary when it's released.