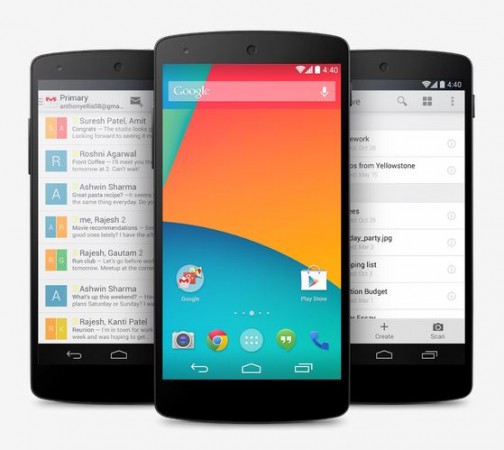 Google has the tradition of cutting the price of its current flagship device a couple of weeks before the launch of its new device except the Nexus 5 (2013), which was discontinued without a single deal. So, the price cut of the Nexus 6 could be seen by many as a hint that the release date of the much-awaited Google Nexus 5 (2015) is not far off.
The search engine giant is tight-lipped on the release date and features of its upcoming Nexus 5 (2015), but that has not hindered speculations and leaks. The smartphone's unveiling event is expected to happen in October before releasing it to the market in November like Nexus 6.
In what could raise the eyebrow of thousands of mobile phone industry watchers, Google has cut the price of Nexus 6 in Midnight Blue and Cloud White. Google Play Store offers the 32GB version of the device for $499 (₹37,000) as against the original price of $649, while the 64GB version is priced $549 (₹42,000) against $699 at the time of its launch.
Google may have cut the price of Nexus 6, but that doesn't necessarily mean that it is releasing its upcoming Nexus 5 (2015) or Nexus 5 2nd Generation any time soon. The deal can be taken as a hint on the arrival of the new device, but its unveiling event should happen only a few months from now.
Perhaps, the tech giant decided to start selling Nexus 6 on a discounted price before nearing a year cycle in the market, considering the feedback it got from public on the steep price hike from its predecessor Nexus 5 that came with just $350 for the 16GB model and $400 for the 32GB model.
Meanwhile, Google is reportedly coming out with two Nexus variants – first one is the successor of Nexus 5 to be made by LG and the other a successor of Nexus 6 to be made by Chinese company Huawei. Android Police has reported that LG is making a device for Google with codename "LG Bullhead" and Huawei is working on another device codenamed "Huawei Angler."
According to reports that have surfaced so far, the Nexus 5 (2015) is expected to sport a 5.2-inch display, powered by a Qualcomm Snapdragon 808 processor and house a 2,700mAh battery. MobiPicker has also reported citing Chinese IT analyst firm Jiutang Pan's post on the Weibo website that the new device, which is possibly referred to the Huawei Angler, would sport a 5.7-inch OLED screen with 1,440x2,560 pixels, and powered by a Snapdragon 810 processor.
However, Google is yet to confirm on the specifications of its upcoming device.