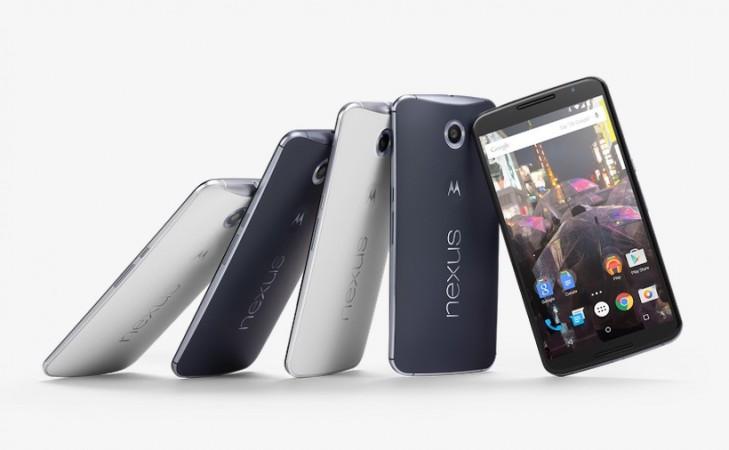 Google devices usually get discount just weeks ahead of a new device launch, but that's not the case this time. The Nexus 6 is getting two price cuts months before the much-hyped Nexus 5 (2015) aka Nexus 5 2nd generation arrives.
The release date of Google Nexus 5 (2015) is expected to fall antyime between October and November, as the Nexus 6 would have completed one year by that time.
There were reports that it could come earlier than expected – in the third quarter of this year – but it may be mentioned here that Google has a practice of releasing its Nexus devices in the fourth quarter, just ahead of the holiday season.
Nexus fans and gadget lovers are in for some cool offers in the UK.
The Motorola Nexus 6 price has hit an all-time low in the country with the 32 GB model available for just £304 ($475) against the original price of £479 and the 64 GB model can be bought for £379 ($531) as against £549, in Google Store, according to Engadget.
However, the offer is temporary and there is no word on how long the sale will run.
The 32 GB version of the device is available for €419 ($464) and the 64 GB version for €479 ($531) in Germany.
It is the second time Google has cut the price of its Nexus 6. Its price was slashed to £399 for the 32 GB model and £469 for the 64 GB model last month in the UK.
The offer was extended to other countries also, with Google Play Store offering the 32GB version of the device for $499 in the US (₹37,000) as against the original price of $649 and the 64GB version for $549 (₹42,000) as against $699. So, the latest offer is also expected to be extended to several countries.
Surprisingly, Google Store is currently showing the price of 32 GB model of Nexus 6 as £400 and the 64 GB version as £479, so it's not sure if it was a pricing error or just a brief deal. Anyways, many would have purchased the device when the discount was on offer.
The Motorola Nexus 6's featuers include a 5.96-inch AMOLED capacitive touchscreen with 1440 x 2560 pixels (493 ppi pixel density), Qualcomm Snapdragon 805, Android 5.0 Lollipop (upgradable to 5.1 Lollipop), 32/64 GB internal memory, 3 GB RAM, 13 MP main camera with optical image stabilization, 2 MP front snapper and non-removable Li-Po 3220 mAh battery.
Meanwhile, Google is reportedly launching the Nexus 5 (2015) codenamed "LG Bullhead" in the fourth quarter of this year.
It is expected to sport a 5.2-inch screen with 1440 x 2560 pixels, powered by a Qualcomm Snapdragon 810 processor, run on Android M, come packed with 3 GB RAM, house a 13 MP main camera, 2 MP front snapper and a 2700 mAh battery.