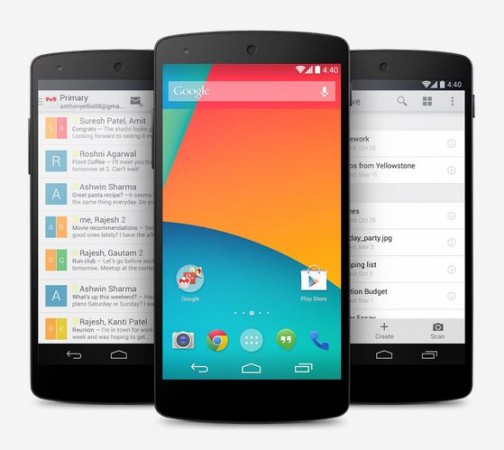 Google is tight-lipped on the release date of its upcoming smartphone dubbed as the Nexus 5 (2015) but several reports have claimed that it could see the light of day later this year. The flagship smartphone is expected to be launched in the month of October or November by the time the Nexus 6 completes one year cycle in the market.
However, nothing is confirmed as of now, as Google is yet to open on its next-generation device despite speculations around it.
Interestingly, Chinese IT analyst firm Jiutang Pan has posted specifications of the Google Nexus 5 (2015) on the Weibo website, reported MobiPicker. It claimed that the device might come with features like a 5.7-inch OLED screen with 1440 x 2560 pixels, powered by a Snapdragon 810 processor, and 1080p resolution. The report also claimed that it was Google's decision to move to QHD display and Qualcomm chipset for its new device.
The Nexus 5 (2015) is also expected to run on Google's next new operating system which is likely to be announced at the upcoming annual conference Google I/O 2015. Several reports claimed that the firmware will be called Android 6.0 M aka Muffin.
However, leaked specifications of the purported device are not confirmed and it will depend on the company that makes the handset.
There are conflicting reports on who would make Google's next Nexus device. It was reported that the search giant would damp Motorola, the makers of its Nexus 6 device, and collaborate with LG, which made Nexus 4 and Nexus 5, for its upcoming Nexus 5 (2015). In the meantime, it is also reported that Chinese mobile phone makers, Huawei, will make Google's next Nexus device.