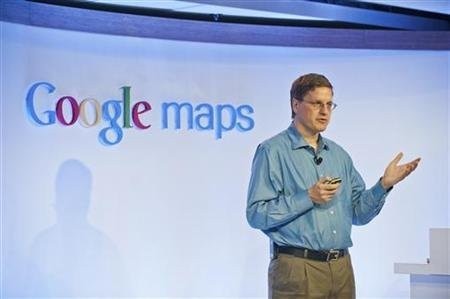 The world's most popular online mapping system, Google Maps, is back on iPhone with the release of its iPhone app.
The app found its way to the iPhone 5 three months after Apple flouted Google MapS from its latest operating system iOS 6 and inserted its in-house production navigation app. First introduced in June, Apple Maps was later released as an update to iPhone and iPad in September to compete with the Google application. Since then the Cupertino-based firm had come under stern attack over the alternative release.
The newly-released service left users frustrated, as not even in-built information about public transportation was provided. What came as a bigger shock was that Apple Maps failed to locate its own flagship Sydney store. The product tawdriness forced the CEO Tim Cook to render an apology and suggest customers to try using its rival's Maps app. Finally, on Wednesday the once booted Google Map traced its way to Apple's iPhone. For now, the gnarled Apple Maps may take a back seat and watch the overwhelming acceptance pouring in for the ubiquitous and dominant Google App.
"It's embarrassing for Apple to reuse Google's map application as it suggests Apple failed to meet market expectations," Hwang Min-Seong, a Hong Kong-based analyst at Samsung Securities told Bloomberg News, Brisbanetimes.com.au reported. "This shows how much harder Apple had to push itself to come up with great innovations, only for it to end up as a big mistake."
Apple's in-house app is lucid and breathtaking albeit the erroneous information it possesses. Nonetheless, there are certainly some factors which make Google's app stand out. Here we take a look at what Google Map and Apple's own cooked version of its Maps app offers:
Street View
Google Maps has Street View option which allows the user to get a panoramic image of an address, business or storefront. Sadly, Apple Maps does not tap a feature like this in it. Google's Street View provides the user a complete picture of any address before they could step in to that place.
Searching
In the modern era, geographical navigation was defined by renowned search engine Google and probably no one else could do it better. So the general view is that the information spread out on Google Maps is more reliable and accurate.
"I plugged the names of several different establishments into both Google and Apple Maps, and found that in every case, Google was able to pull the exact location of my desired restaurant, bar or store, while on Apple I had to search," reported Jason Gilbert, technology columnist for Huffingtonpost.
However, the information on Google Maps could also be inaccurate. Anick Jesdanun made this note in his Associated Press report. "But Google has made mistakes, too. It told me to turn left to get to a lighthouse along the Straits of Mackinac connecting two Great Lakes, even as the road sign in front of me pointed to the right."
Public transits
Google Maps offers mass transits while Apple Maps does not. Google Maps is handy for people who use public transport, whereas Apple Maps will direct the user to a go for a different app from its App Store. Public transit directions for more than 80 million businesses around the world are listed on Google Maps.
Alternate Routes
Both Google's new iPhone mapping and Apple's service will suggest alternate routes to different locations. In the end, it depends on the user to find out which route is more reliable and shorter.