In what could be seen as a move to boost sales of the Nexus 6, Google has finally killed the popular Nexus 5 after months of speculation. The move might disappoint Google Nexus fans, as there are many who the Nexus 5 over its successor because of the screen size.
Google has officially announced discontinuation of the Nexus 5 a few months after the release of the Nexus 6. "The Nexus 5 is no longer available for purchase" notice has been put up on Google Play Store.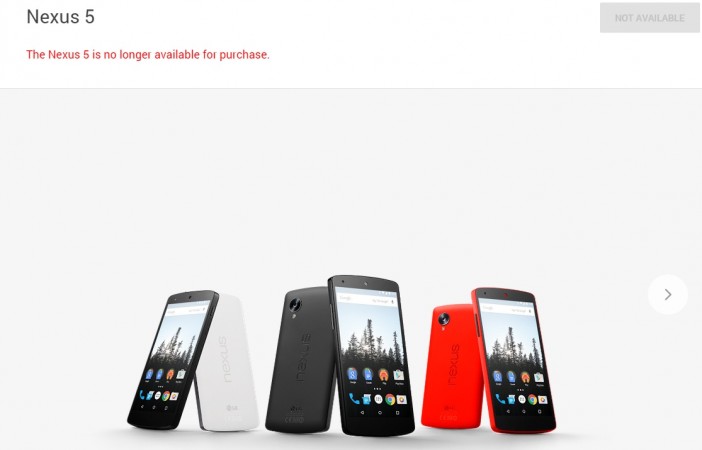 There were speculations that Google would kill the Nexus 5 after the release of the Nexus 6 but the makers of the smartphone confirmed that it would be available on Google Play Store and select retailers through the first quarter of 2015.
The Nexus 5 is no longer available on Google Play Store but gadget lovers can still buy it from online stores like eBay, Flipkart, Amazone, Snapdeal and others. However, the device will be available on these online stores depending on the stock.
The Nexus 5 was launched at $350 (₹28,999) for the 16GB variant and $400 (₹32,999) for the 32GB model in 2013. Google defied its tradition of cutting the price of its latest smartphone before the release of a new device by discontinuing the Nexus 5 without cutting its price. Interestingly, some online stores have raised the price of the device after Google announced its decision to kill it.
The Nexus 5 has been one of the most-talked-about smartphones since its launch in 2013. It sports a 4.95-inch display with 1080x1920 pixels (445 ppi pixel density), powered by Qualcomm Snapdragon 800 processor and runs on Android 4.4 KitKat (upgradable to Android 5.0.1 Lollipop). It also boasts of features like 16/32 GB internal memory and 2 GB RAM, non-removable Li-Po 2,300 mAh battery, and 8MP main camera with optical image stabilization, and 1.4MP front snapper.