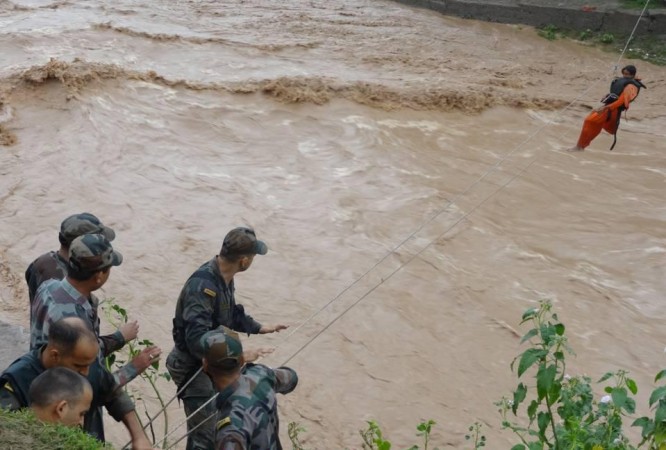 Tech giant Google, a popular search engine used essentially to surf the Internet, has now stepped in to aid rescue operations in the flood-hit Jammu and Kashmir, where about six lakh people are still stranded.
The National Disaster Response Force (NDRF), which has been conducting rescue ops with the Defence forces, having evacuated about 50,000 people so far, has brought in the Google application 'Google Person Finder' to look for those stranded, given that mobile network connectivity has collapsed in the state.
The Google Person Finder, which was successfully used in the Uttarakhand floods last year as well, is a customized web application that allows users to search for people or add details of the person on a database that can be used to track an affected person in a disaster.
Google has reportedly briefed the government that its 'open source' content already contains a lot of information on the locations and inhabitants of Jammu and Kashmir that can aid rescue, according to the Press Trust of India.
The app was first launched to aid rescue efforts after the Haiti earthquake in 2010, and has also been used widely in the rescue efforts during the tsunami in Japan in 2011 and the floods in Pakistan in 2010. In India, it was used first for rescuing people in the Uttarakhand floods last year.
Here's How the App Works:
The Google Person Finder is a webpage where a relative of a person missing in a disaster can post information about that individual. It also allows people to post details of survivors they come across, and thus, if the two posts match, the survivor can be tracked by the relative.
If the name typed by a person to find a missing individual matches to a name already entered in the database by someone, the app gives some hope to loved ones with a message "Someone has received information that this person is alive", and then directs the user to a page with basic information about the person and the source of that info.
Essentially, and as Google itself has described, the Google Person Finder "helps people reconnect with friends and loved ones in the aftermath of natural and humanitarian disasters."
"The platform had been very successful during last year's floods and heavy rains that had wreaked havoc in Uttarakhand. Once activated, the web and SMS-based resource will bolster rescue teams of all the agencies like NDRF and IAF immensely," a senior officer of the security establishment told PTI.
The rescue teams of the NDRF, Indian army and the air force have already been using platforms such as the social media and WhatsApp to track stranded survivors of the flood, with SOS messages being posted on Twitter, Facebook and other web forums.