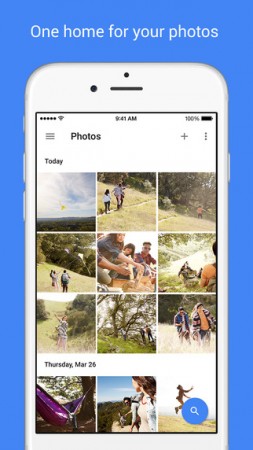 If you have been watching the Google I/O 2015 keynote, you must be amazed by the all-new Photos App that makes storing, sharing and searching photos and videos simple as ever.
Google revealed some interesting features of its Photos app, which was a part of Google+ service, gaining an edge over most of its rivals. Some of the attractive features in the new Photos app include free unlimited storage, easy search, photo editing tools and easy sharing.
Let's take a look at all the individual features that Google's Photos app has to offer.
Unlimited Storage
This is an interesting addition for those who rely on cloud storage. By adding unlimited storage space in Photos, Google has rendered all services that come with limited storage capacity useless. Users can upload photos and videos using Android and iOS apps as well as from the web. Accessing the uploaded content remains simple as users can use any device to do so. Photos app will have auto-backup feature activated by default, making it easier for you to access from any device.
Generous Upload Size
Like most service have a cap on the size of a photo or a video that can be uploaded to the cloud, Google also has a limit. But users will not have to give up a lot by using Photos app as it can store up to 15GB original size images for free. The preferred image resolution for photos is set to 16mp and 1,080p for videos.
Auto-Grouping
How often have you found yourself looking for that one photo from a stock of several thousand images? Google has just made it easier for you to look for any particular image without hassles. Photos app offers auto-grouping feature that organises your images so you can run a visual search to find images using terms like people, places and random things present in the image.
Taking a page from Apple's book, Google also added pinch to zoom gesture to view images by week or month.
Photo Editing Tools
Google offered interesting photo-editing tools, but the app's attachment to Google+ turned off many users' interest. By gaining independence from Google's social networking site, Photos app gets interesting. Users can take advantage of the Auto-awesome feature to create movies, stories and GIF animations from the collection of images. You can also adjust colours, apply filters and do a lot more using the app.
Sharing
Sharing is one of the most important tasks for cloud storage services. Google Photos offers improved sharing solution with Photos where a user can just select images by swiping and share them with friends. A link to the images will be sent to the recipients, using which they can view or download them without the need to have the app installed on the phone.
Download Photos app
Photos app for Android can be downloaded from Google Play Store and iOS users can go to iTunes to get the app. In order to access the service from the web, simply visit Google's Photos website where all photos and videos will remain accessible.