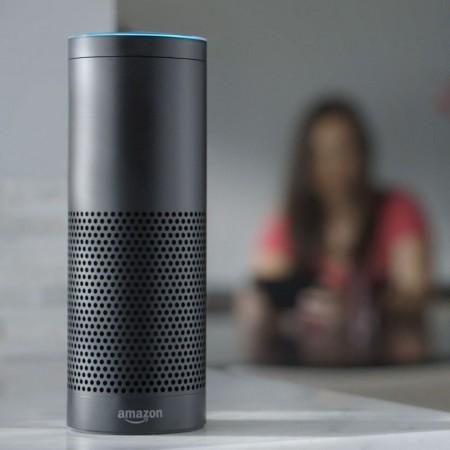 Smart home products are becoming huge, with new players joining the category with mainstream offerings. Though there are big names like Google, Amazon, Nest, LG and Samsung in the field, only a few have captured the market. We can safely say that Amazon and Google have taken a lead here.
Thanks to high-tech products such as Amazon Echo and Google Home, you now have controls to your entire house in one place. The built-in AI (artificial intelligence) in both the devices has its own strengths and gives other products a run for their money.
Google Home is powered by Google Assistant (of course) while Amazon uses its Alexa to help connect human interactions with smart devices at your home. But we are going to see some stiff competition in this space as rumours swirling around say that Microsoft is betting on entering the IoT arena with none other than Cortana.
Here is a look at all these big players in the smart home arena:
Google Home
In several reviews, it has been proved that Google Home comes on top on knowledge levels, thanks to Google Assistant's intelligence. With Google Home, you can connect several smart home devices and use your voice to control various features and even play music in different rooms. With its synchronisation with Chromecast devices, you can easily stream YouTube videos on TV without voice commands.
Google Home can answer most of your questions and it is good with follow-up questions. But it certainly comes with limitations. For instance, only one Google account can be linked to the system for now. Despite that, Google Home's affordable pricing makes it a likely choice for shoppers. It costs $129.
Amazon Echo
Amazon Echo's biggest advantage over its rivals is its experience. It has been around since 2014. Alexa is better designed to handle third-party support and has more than 3,000 skillsets. If you are looking for smart home controls and skills, Alexa has got you covered.
Amazon Echo matches Google Home on several levels, and for some parts it even manages to outperform it. Just like Google Home, Amazon Echo's main feature is the smart speakers, which respond to voice commands to play music. It also supports a wide range of smart home devices from brands like Nest, Philips, SmartThings, Belkin, Wink, Insteon and more, a major win over Google Home, which currently has limited support.
Microsoft Home Hub
Microsoft hasn't fully entered the IoT (Internet of Things) arena, but it is getting there sooner than later. Microsoft's very own Cortana is now reported to be a part of the company's upcoming Home Hub, which will make the battle intense for Amazon and Google.
Cortana would be able to access shared content as well as individual users who are signed in. That's right! You can have more than one account with Microsoft Home Hub. According to Windows Central, Microsoft will turn its Windows 10 PCs into a device like Amazon Echo and Google Home.
With such integration, you will be able to wake up your PC with just a voice command and these features will be added to Windows 10 PCs in a series of three updates – Redstone 2, 3 and 4. The updates will start rolling out next year, so start updating your PCs to the latest Windows version to make the most of it.
Related
How safe is your smart home? 4 best devices that will shield your house against hackers
Coolest smart home appliances to complete your luxurious lifestyle in order
5 best smart home appliances everyone needs before moving into a new house
Home digital assistant almost close to reality, demo next month: Zuckerberg