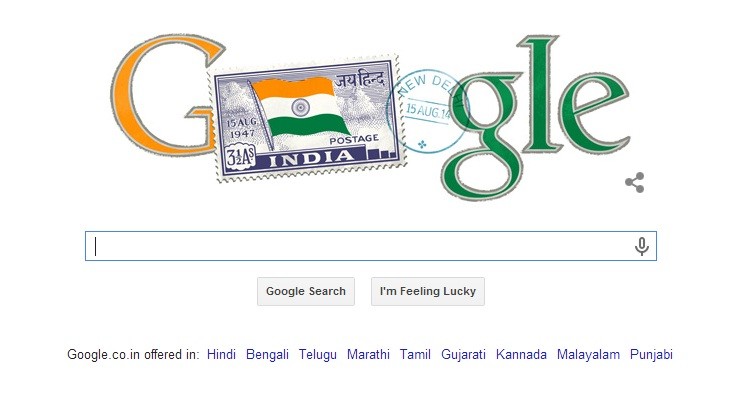 If you are among those people who forget important days and dates, then Google doodles are nothing short of a blessing. And today, Google posted a doodle based on an old stamp to commemorate India's 68th Independence Day.
The stamp, which was issued on 21 November 1947, has a picture of the Indian flag and the slogan "Jai Hind" (Long Live India) on the top right corner and is also the first stamp of Independent India. The date 15 August is also mentioned in the blue-coloured stamp along with its price at the time, three-and-a-half anas. The stamp was meant for foreign correspondence.
The logo of Google starts with the 'G' dipped in saffron colour, colour of the first stripe in the Indian flag, followed by the first Indian postal stamp stepping in for the 'O'. The next 'O' is represented by a postmark stamp, which reads: New Deli, 15 Aug. 14. Meanwhile, 'g', 'l' and 'e' are all in lower case and filled with green ink, which is the colour of the bottom stripe of the national flag.
Google has been celebrating India's Independence Day since 2003, in its India home. Back then, the doodle was much simpler, with the second 'O' representing the Ashoka Chakra (which appears on the white stripe in the national flag) and 'l' acting as the poll for the Indian flag.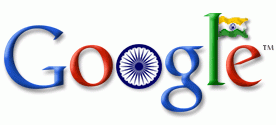 Since then, they have been posting a new doodle on every 15 August, except in 2004 with it being a no Google day.
On 15 August 2011, Google India welcomed users to its homepage with an illustration of the iconoc Red Fort at New Delhi, on which the Google logo was written in white.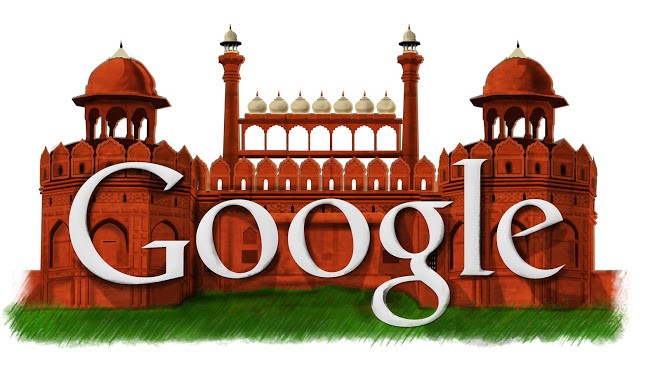 In 2012, Google doodle was especially beautiful, with the depiction of a peacock, the national bird of India. The peacock is posed in such a way that it looks like a 'G', while 'oogle' are coloured in saffron and green, with intrinsic designs of white layering on it.

Last year, the doodle by Google created much controversy, when it used yellow instead of saffron, which is the colour on the Indian flag. Some even found the logo quite similar to that of Coca Cola.

Our neighbour Pakistan also celebrated its 68th Independence Day, on 14 August 2014, a day prior to India. In order to pay homage, the Google homepage was decorated with the picture of The Pakistan Monument, a blooming flower-shaped building in Islamabad, which represents Pakistan's rapid development.